Rev. Mpho Tutu, daughter of South African social rights activist Desmond Tutu, visited Regent's to deliver a keynote speech during the UK's first 'Desmond Tutu Peace Summit for Youth' in March 2015.
The summit which was organised jointly by Regent's and the Tutu Foundation UK, brought together 60 young people aged 14-18 from eight London schools and youth organisations to learn how to spread peace using the southern African philosophy of 'Ubuntu,' meaning 'I am, because you are.'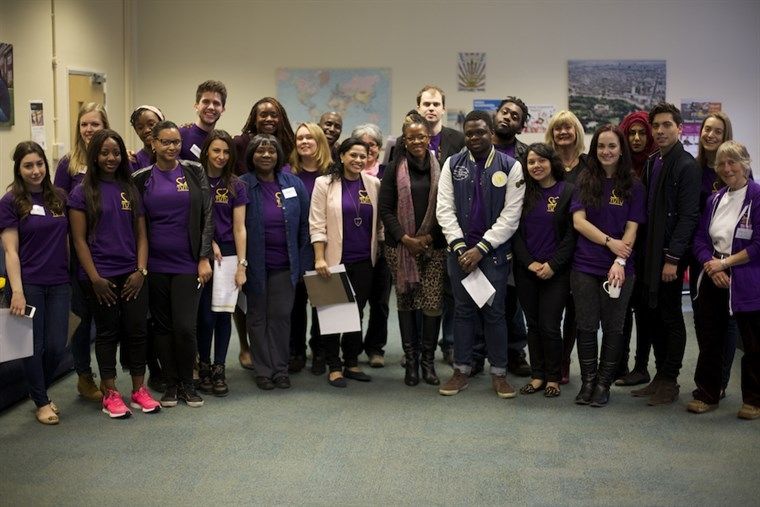 Rev. Mpho Tutu (centre with scarf), with Regent's University London student and staff volunteers.
Activities on the day included interactive workshops, presentations and the opportunity to contribute to a new charter, which will inform the future work of the Tutu Foundation.
In her speech Rev. Mpho Tutu referenced the struggles caused by apartheid in South Africa and how the country is increasingly democratic with less racial prejudice.
Young people at the Summit included Mohammed Reiss Akhtar and Gilmar Queiros, a student volunteer at Regent's University London.
Mohammed said: "The Summit has given us the skills to talk to other people. We are also transcending language and geographical barriers by meeting people from around the world."
Gilmar added: "Ubuntu is all about the connectivity of different feelings and emotions and knowing that whatever you give, somehow it will make its way back to you.
"Today we have all been reminded of our desire to do something better, to change our community, and to have a bigger impact upon others."
The day concluded with students presenting their 'Ubuntu Peace Charters,' which will be integrated into the Foundation's own Charter.
Irene Uwejeyah, Head of Outreach and Community Engagement at Regent's University London, said:
"We are proud to be The Tutu Foundation's first UK university partner and help deliver this summit. Working with young people in London is a key outreach aim for Regent's University London and we look forward to our next partnership activity."