Don't miss out – apply now for January 2023 accommodation!
Our halls of residence are located in the leafy grounds of our Regent's Park campus – overlooking gardens, lakes and the surrounding royal park. Living in halls allows you to relax and socialise on campus while being just a short walk from classes, the boutique shops and restaurants in Marylebone and the vibrant nightlife of the West End.
Reid Hall
Reid Hall is our main campus dormitory, providing a mix of single and twin rooms over four floors – all with free WiFi access. It's recently had a makeover, with freshly painted rooms, new furniture, smart hardwood floors and two huge screens in our lobby – one
for Netflix and the other hooked up to a brand new PS5.
Each floor has three communal bathrooms (around five students per bathroom) and – while all rooms include meal credits for Regent's dining outlets – there's also a kitchen, providing you with access to a microwave, kettle and sink. Our twin rooms are around 130 square feet (with two beds, desks, chairs and wardrobes) and our single rooms are around 115 square feet. There's a small launderette on one level.
When the sun shines, relax on deckchairs and Fatoy hammocks on the lawns outside,
or step into the park for picnics and ice creams by the lake.
With live-in resident assistants, gated access and a 24/7 security presence – Regent's offers one of London's safest campus experiences.
Reid Hall rooms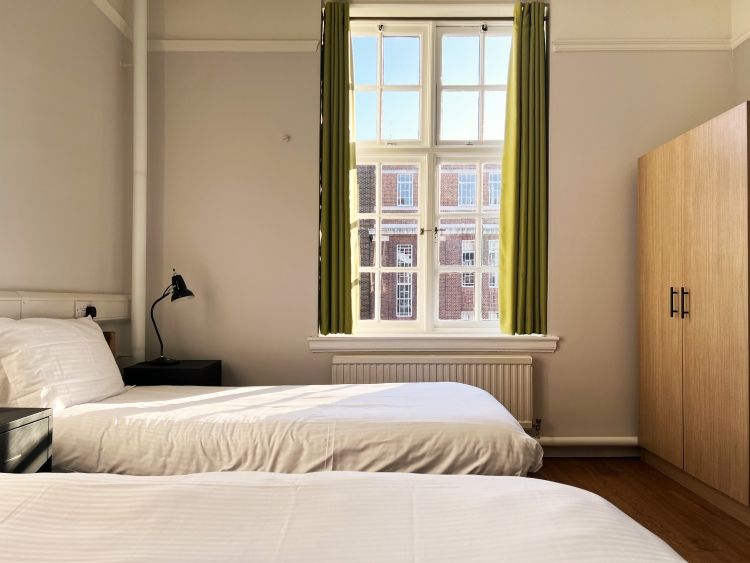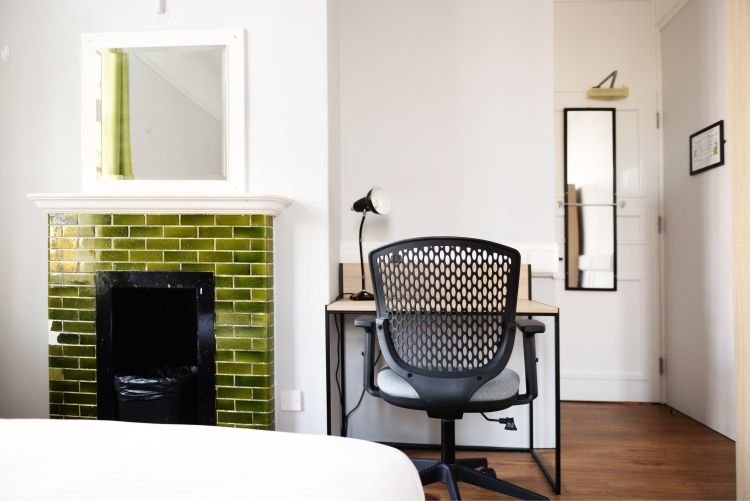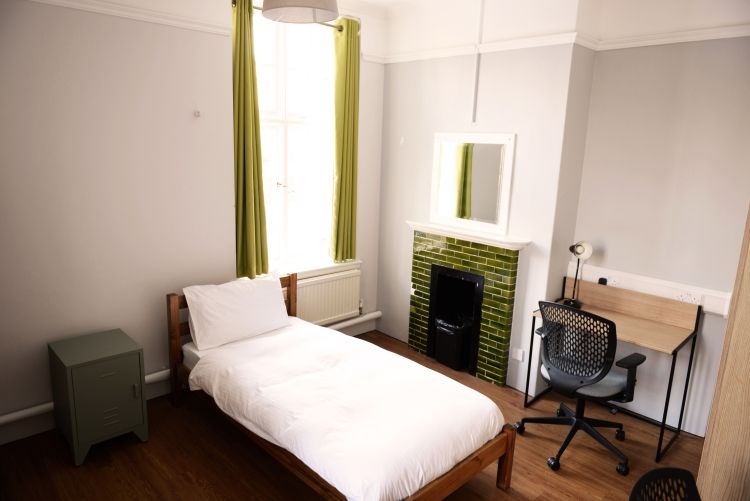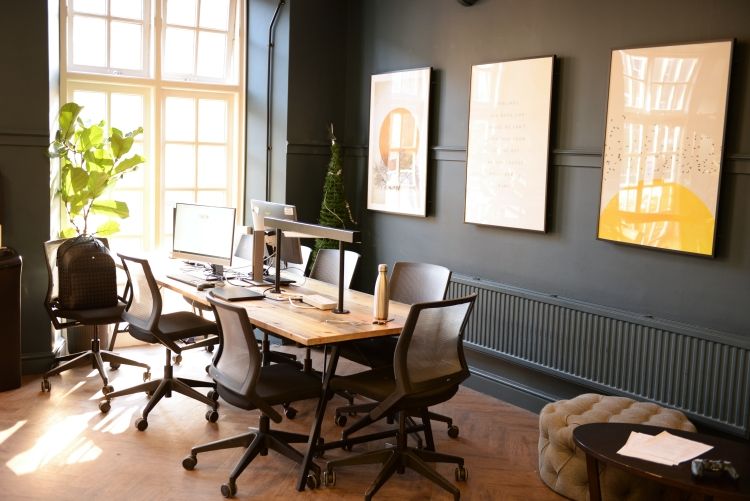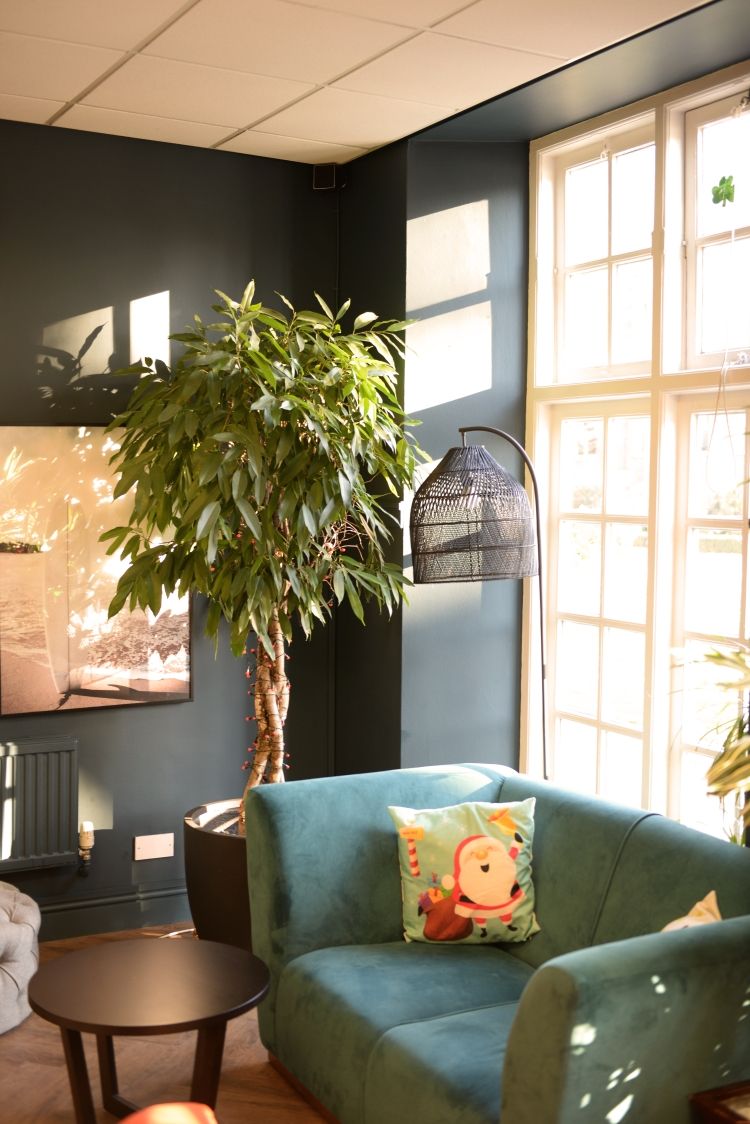 Accommodation continued
Disabled access
Eight rooms in Reid Hall also have wheelchair access, and are located on a corridor
with accessible bathroom facilities. If you have a disability, we encourage you to get in touch to discuss your specific needs – we'll do all we can to accommodate you.
Meal credit
Students living on campus receive meal credit on their ID card as part of their housing fees. The card contains a set amount (of £90 per week) which you can use to purchase food and non-alcoholic drinks from onsite outlets. Please note, this doesn't guarantee three meals a day, seven days a week – you must budget to make this last. If the credit runs out, you can top up your balance or use cash or your debit card.
Oliver Flats
Oliver Flats are a small collection of three single rooms and one twin room – based on campus, but separate from Reid Hall. Each room has its own private bathroom and shares the same kitchen. Meal credit for use in Regent's dining outlets is also included.
Prices for 2022/23
 
Spring 2023
(18 week)
Spring 2023
(16 week)
Summer 2023
(11 week)
Considered suitable for
Regent's and study abroad students
BA (Hons) Global Management students commencing their course in January 2023 (Term 1)
Foundation and Liberal Arts students commencing their course in January 2023 (Term 2)
Reid Hall Single
£7,560.00
£6,700.00
£4,730.00
Reid Hall Twin
£6,120.00
£5,420.00
£3,850.00
Oliver Flats Single
£8,460.00
£7,500.00
£5,280.00
Oliver Flats Twin
£7,560.00
£6,700.00
£4,730.00
Arrival date
21/01/2023
21/01/2023
13/05/2023
Departure date
27/05/2023
13/05/2023
29/07/2023
Meal credit included
£1,440.00
£1,260.00
£990.00
Apply for housing
To apply for Reid Hall or Oliver Flats, please access our accommodation portal. Our bookings are made for official school term dates and may not coincide exactly with exam dates. You won't receive a refund if you leave the housing early.
Under 18s policy 
If you're under 18 years of age when you move into the dormitory, your application form must have been completed and signed by a parent or guardian – they must provide their contact details and understand that Regent's doesn't stand in loco parentis to their child and/or charge.
Questions? Get in touch
The Accommodation office,
Regent's University London,
Inner Circle, Regent's Park,
London, NW1 4NS
Phone: +44 (0)20 7487 7483
Email: [email protected] or [email protected]