Offer details

About Peak Health

Being able to operate at peak performance is increasingly important in a busy, stressful and challenging world. At Peak Health, we offer a retreat that not only helps you to relax and unwind, but also to develop personal strategies that help you maintain health and fitness and allow you to operate at peak performance. The Peak Health philosophy is based on the research of a team of medical and wellness experts around the globe. It takes a holistic approach to resetting health based on the latest academic and scientific research.

Through our fully immersive retreat programme, we aim to help you cut through the noise around wellness and understand which small changes will make the biggest impact on you to help you transform your lifestyle. Peak Health provides the highest-quality offerings with nudging strategies that rewire your mindset to foster more beneficial habits.

Through a precise wellness assessment, we provide personalised support in our key pillar areas (Nutrition, Fitness, Mental Resilience, Sleep, and Habits) for sustaining optimal health and maximising results. By focusing on healthy behavioural and cognitive changes, we create sustainable solutions to wellness improvement.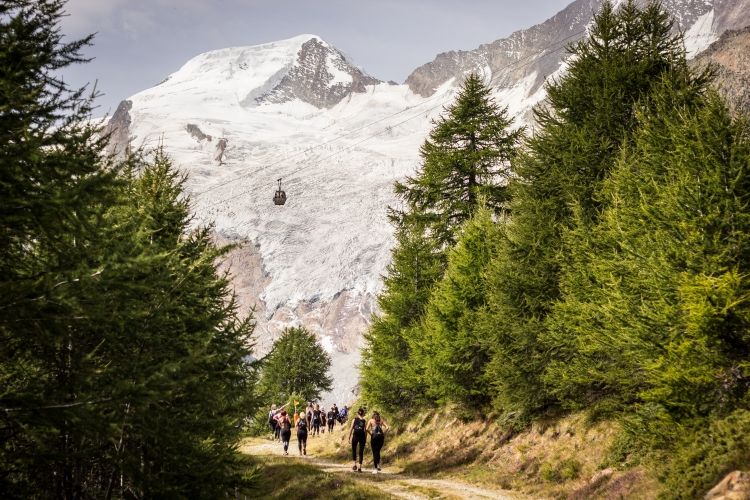 Saas-Fee

Saas-Fee is an authentic Swiss village located 1,800 metres above sea level. This car-free resort is surrounded by no less than eighteen 4,000-metre peaks with breath-taking views of the surrounding landscape. This makes it the perfect location for altitude training, which can help improve cardiorespiratory health and endurance.

The Capra Hotel

The Capra is an intimate alpine lodge that combines the cosiness of a chalet with the comforts of a luxury hotel. Expansive suites in warm earth tones offer panoramic views of snow-frosted peaks, pristine valleys, and wide-open skies. The Capra is the perfect place to recover, rejuvenate, and reconnect with nature.

Peak Health Spa

The Peak Health Spa at The Capra includes three treatment rooms, a relaxation area, sauna, steam and salt therapy rooms, an indoor pool, outdoor hydrotherapy pool, fully equipped gym and open studio for yoga classes. In addition, the Spa has uniquely curated treatments including customised facials, therapeutic massages, body packages, muscle recovery, detox treatments and private classes. Our product offerings are based on natural, organic ingredients and clean science.
Testimonials
"This has been the best retreat that I've committed to and I'm going to be heartbroken to say bye to not only the place, but also the amazing Peak Health team and the other retreat guests that I've met here!"— TESS WARD

"I was truly educated on Nutrition, Fitness, Mental Wellness and Sleep. Any question was answered, it seemed nothing was too much trouble for the Peak Health team."— DAWN STAINES

"Peak Health was like no trip or retreat I'd been on before - addressing mental as well as physical health - all alongside a jaw dropping Alpine backdrop. The perfect balance of activation and relaxation - it was a natural reset and refocus."— LUCY VERSAMY

"By the end of the week, I felt fitter and stronger, my skin improved a lot and had a glow to it and I felt worlds better mentally."— ROXIE NAFOUS
Find out more and book with an alumni discount.