Final-year BA (Hons) Global Management (Finance) student Mattias Bohman is celebrating the first anniversary of the China Business Society (CBS), a student-led group he established to help develop excellent networks for Regent's University London students and graduates.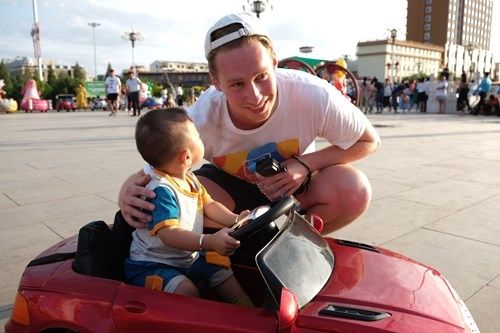 Matthias Bohman enjoying a visit to China
"The China Business Society has been a great success for myself and our team. We have obtained hands-on experience with China and a number of us have already been headhunted by top firms," Mr Bohman, originally from Sweden, said.
Looking to the future, he is keen to highlight how extracurricular activities like the CBS can help students' future ambitions, and hopes that the goals of the organisation will spread beyond Regent's to other UK universities.
We spoke to him about how students can improve their opportunities with China.
Do you think students in the west know enough about China – if not, what's putting them off?
It's important to understand that China is a very large country, consisting of 23 provinces which are larger and have higher populous than many European countries. Each province is different in the same way that Sweden is different to Italy or the UK. Sometimes smaller issues can grow out of proportion and become yet another myth or a stereotype.
What are the potential benefits for a student becoming more involved with China?
When I was born in 1994, China had a gross domestic product of $562 billion, and the UK's was $1.1 trillion by comparison. Today it is $12 trillion and $2.6 trillion respectively. Some of the world's largest companies are now Chinese. China's global influence is very real and its success is an important part of the world's future peace and prosperity.
What are the networking and career opportunities for western students interested in China?
I believe a majority of jobs in the future will require an understanding of China, regardless of location. Today it is quite natural that a Chinese company is building a nuclear plant in the UK, while another owns the Hilton hotel franchise or is the world's largest American distributor of Apple products, Swedish Volvo and many other companies.
Is learning the language a must? What about culture?
It is good to have an understanding of the language, in the same way it helps to know English if you are going to the UK. It's a sign of respect and helps you develop relationships. Because culture varies from city-to-city and across different provinces it is important to be adaptable and a quick learner.
How can Regent's students get more involved with China?
Come to our events, meetings or write us a message on our Facebook page! We're open to everyone.
 
Regent's China Business Society has just held its first annual general meeting and voted for Edward Calderini to become its new President, along with executive Taylor Thompson.