Our support offer
We have completely reformed our support for you – to focus on, and foster, more of a partnership. We're confident that whatever careers or enterprise support you need, you'll find it here.
Gain personalised, expert careers advice
Join masterclasses, workshops and webinars
Book careers coaching and advice sessions
Receive support with start-up visa applications
Attend industry events and internships
Our aim is to equip you with the tools and skills you need to make informed decisions about your future. We offer a collaborative environment, allowing knowledge and opportunities to flow between students and graduates, and we aim to break down the barriers between job seekers and creators, students and staff – making it much easier for you to develop your career skills, organically.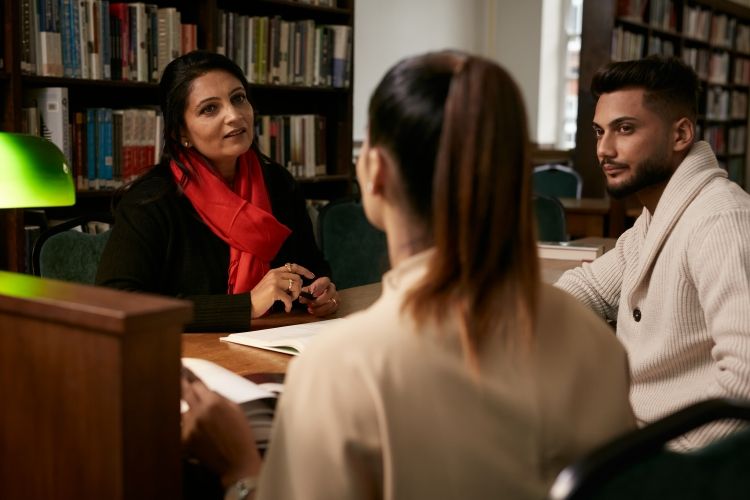 Booking an appointment
You're always welcome to reach out to us – and we're committed to helping you in any way we can!
Both current students and graduates can book to consult with our advisers. If you're a current student or a graduate, you can log into to the Student Hub to book appointments, see our latest events or contact the team. If you're a new student, you can email us here for more information.
If you've already started a business, or want to explore applying for a start-up visa upon graduation, follow the steps in our start-up visa handbook or contact the Visas & Immigration team.
Types of appointment

Drop in sessions
Our careers consultants are available for a variety of quick 10 minute queries – from having a quick CV review, to getting advice on upcoming interviews. Drop by Tuke 008 between 14:00-16:00 on Tuesdays, 10:00-12:00 on Wednesdays and 14:00-16:00 on Thursdays, without an appointment.
One-to-one appointments
Whether you're a current student or a Regent's alum, you can book one-to-one careers, entrepreneurial or placement appointments with a careers consultant who'll help you to identify information, resources and actions to help you further your career.
Personal development
Over the term, you'll be invited to join our Personal Development workshops – encouraging you to focus on who you are and how that relates to your future goals and ambitions. You'll explore:
Your values – who are you?
Discover your strengths, talents and passions and align them to help you make decisions about your future career.
Staying personal in and out of your career
Learn to be yourself. Often we find ourselves wearing several hats, personally and professionally – so how do you stay authentic, all the time?
Building your narrative
Think about which past experiences have defined you and how you can build these learnings into your conversations with future employers.
Telling your story – how do you talk about yourself?
Learn compelling and profound ways to talk about who you are, what's important to you and what you want to achieve in your career. 
Connectivity and conductivity
Relationships start now – learn how to stay connected and build relationships for life.
Explore and book workshops here.
Skills development
Throughout the term, you'll be invited to attend workshops, webinars and information sessions that cover a wide range of topics. For example:
Strategic job searching
Discover what a placement is and how it can benefit you, and learn how to find opportunities relevant to your discipline, and when and how to follow up with employers.
Building a standout CV
Learn what to include in your CV, how to format and tailor it to each individual employer, and how to stand out from the crowd.
Creating applications
Learn how to write a persuasive cover letter or personal statement – showing personality while making sure your showcase your skills.
Being your best self in interviews
Discover what to do before, during and after an interview to create a great impression and maximise your chances of receiving a job offer.
Planning for your future
Learn how to build a plan of where you want to be and how to get there.
Explore and book workshops here.
Professional opportunities
Once you've identified a career that you're interested in, we can offer support that's both focused and practical – making your ambitions a reality.
We can offer information on placements, internships and volunteering – with summer, part-time and graduate vacancies all accessible for both students and graduates. Plus, our strong industry connections allow for live consultancy projects to be managed by Master's level students.
Roles are advertised through our jobs board.
Entrepreneurial support
Founder's Programme
With the highest number of founders of any university in the UK, we're excited to offer an entirely new programme supporting our entrepreneurial students and graduates.
Over the course of the year, you'll be invited to get involved with our new seven-part programme – welcoming a range of entrepreneurs, start-ups, and partners to share their expertise and insights with you, covering all aspects of building a business, including:
1.    Creativity
2.    Ideation
3.    Leaning business (covering commercial and situational awareness)
4.    Market research
5.    Marketing
6.    Funding
7.    Launching
The new Founder's Programme will offer tailored guidance and advice for enterprising students
and graduates who have their own start-up ideas, while events and workshops will allow you to network and connect with peers, alumni, industry leaders and business founders.
It'll launch soon after Global Entrepreneurship Week, which takes place in November. 
Co-working spaces
We'll continue to have dedicated co-working space available on campus too – an opportunity to work on your business idea while collaborating and sharing ideas with peers. 
If you've already started a business, or want to explore applying for a start-up visa upon graduation, follow the steps in our start-up visa handbook or contact the Visas & Immigration team.
If you'd like to use the space, or have any questions about The Founder's Programme, please do get in touch via email or book an entrepreneurial appointment.
Events
We regularly hold live events, webinars, masterclasses and skills sessions – often with the help of industry experts, including our alumni – for the benefit of students and new graduates.
Our 'Conversations with' events offer an opportunity to connect current students with recent and relatable alumni, sharing their journeys, insights, and expertise.
Employers will be involved in our workshops and will be invited to hold stand-alone events, both digitally and on-campus. Where possible, employers will be integrated into the curriculum to give you the best chance of connecting with them.
Explore and book events here.
Digital resources
This year, we're excited to announce that we've partnered with Handshake – our brand new careers platform. In the coming months, we'll be able to offer you even more:
Careers content and resources
International jobs and placement opportunities
Networking opportunities with companies of all sizes, as well as start-ups
Live events and digital careers fairs
Handshake also enables you to make appointments and bookings with our team directly within the platform, and offers a mobile app for easy access on the go.
It also offers you the chance to create and build your own profile to personalise the type of content you see, the employers you engage with and the types of job opportunities highlighted to you.
Where to find us
On campus, you can find us situated in room 008 in the Tuke building.
You will usually find someone there between 9am and 5pm each day – and they can help with any questions you might have. Please make an appointment beforehand, if possible.
Or, between 14:00-16:00 on Tuesdays, 10:00-12:00 on Wednesdays and 14:00-16:00 on Thursdays, you can drop in with careers or enterprise related enquiries, without an appointment.