The Hive
The Hive is a collaborative workspace and community for both current students and alumni, which offers a full suite of services which include: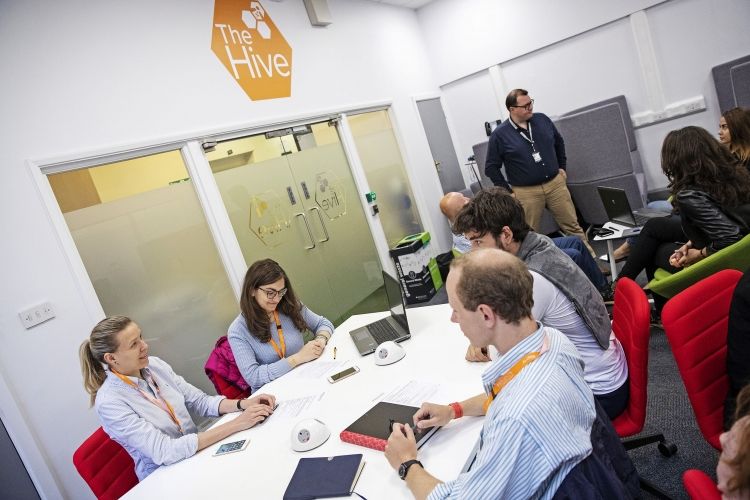 The Hive is based in the Tuke Building.
Start-up advice 
Masterclasses and webinars
Careers advice
Student consultancy services
Bookable hot desk environment for start-ups
Support with start-up visa applications
The Hive offers a collaborative environment in which careers and enterprise advice happens in a live working environment, allowing knowledge and opportunities to flow between its users.
The Hive's aim is to break down the barriers between job seekers and creators, learners and staff, changing the way our learners relate to the university and develop their career skills.
How to get involved
The Hive offers bookable benched workspaces for alumni entrepreneurs and also to current students via Junior Enterprise Regent's.
Current students and alumni who want to explore the idea of starting a business should book a careers appointment via Student Hub. Regent's careers advisors are trained to help you with the next steps.

If you have already started a business or want to explore applying for a start-up visa upon graduation, follow the steps in our start-up visa handbook.
Our services
Careers provides students and graduates with comprehensive advice and guidance. Our aim is to equip you with the tools and skills you need to make informed decisions about your future.
Career Management Workshops, Webinars and Masterclasses
Careers Advisors deliver workshops covering a range of topics, from writing an effective, sector-relevant CV and cover letter; to video interviews and psychometric testing.
We provide interview and assessment centre support so that students and graduates are prepared to enter their chosen workplace.
Sector specialists provide and share information, ranging from creative industries to psychotherapy and business professionals.
Enterprise
Regent's Alumni and coaches offer tailored guidance to enterprising students and graduates who have their own start-up ideas and/or planning on starting their own business.
We provide one-to-one enterprise coaching, with specialist advice and mentoring available to support students and graduates with their business ventures.
Enterprise week allows intensive learning, from theory to practice.
Appointments
Students and graduates can book to consult with Advisors on specific subjects. Through tailored guidance, practical information and advice, students and graduates are guided on resources for career planning and research.
Professional Opportunities
Information on internships/volunteering, summer, part time and graduate vacancies are accessible for Regent's students and graduates.
Roles are advertised through our job board. Synergies across the university and through external partners, allow for live consultancy projects to be managed and led by Master's level students.
Events
Careers invites and hold employer events on campus, promoted through Advisors, Student Hub, social media and collaboration with Student Union.
Such events support networking, industry knowledge growth and career decision making. Regent's Alumni community share their success and industry knowledge through panel discussions and through short instant messages using social media.