Beginning life at university naturally generates both excitement and anxiety about the move, academic work, meeting new people. Whether it's advice on academic issues, help with personal issues, or assistance with finding a doctor and the health services you need, you can contact the Student Support team at any point during your time at Regent's.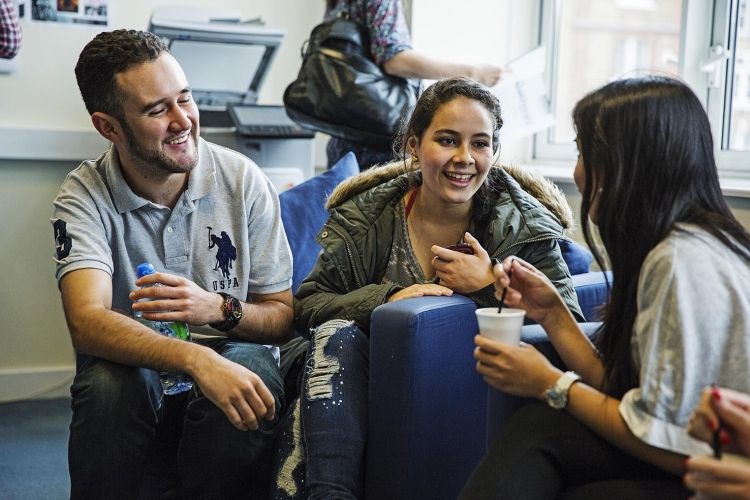 If you have any questions, or would like to book an appointment with us, please visit the Student Hub on the ground floor of the Acland Building or book an appointment on the online Hub.

Below are some ways we can help.
Practical and emotional support
Homesickness
For some, this apprehension is quickly overcome as they adapt to a new environment; for others the transition takes longer and sometimes emerges as homesickness where there is a preoccupation with home-focused thoughts. There is a yearning for and grieving over the loss of what is familiar and secure: most often it is about the loss of people - family and friends - but it is also about the loss of places and routines.
You are not immune just because you have successfully experienced leaving home before. Vulnerability to feeling homesick can be affected by:
The distance from home
A sense of anti-climax at finally arriving at university after working towards it for so long
Unhappiness due to expectations of university not being met
"Job strain" - i.e. work overload and low control over it
Contrast in lifestyle.
Those who are homesick often feel they have no control over their environment, and that they do not identify with it, or are not committed to the university or their place within it.
What might help?
Talk to someone. If you haven't made friends here yet, then come and see Student Support.
Keep in good contact with the people you have left behind; arrange a time to go back to see them. But also give yourself time within the university to begin to get involved here.
Remember that many other people will be sharing similar feelings, although you may assume that they are doing fine!
Be realistic about what to expect from student life and from yourself. Establish a balance between work and leisure: you are NOT expected to work ALL the time – you will burn out very quickly. On the other hand, if you don't put in enough time for work, you can very quickly get behind, which will only adds to your stress.
Remember to get enough food and sleep! These affect us emotionally as well as physically.
Make contacts and friends through shared activities such as sport or other interests. There are many clubs and societies within the university and city, that you are very likely to find something that suits your particular interests. At the start of the academic year many new people will be joining – you are unlikely to be the only new person.
Give yourself time to adjust: you don't have to get everything right straight away. Nor do you have to rush into making major decisions about staying or leaving.
If you stop being able to do normal social and academic things, seek professional help either from your GP or the University's Counselling service. Don't wait until the problems have grown impossibly large.
We hope that some of these suggestions will prove useful. There are many things you can do to help yourself, but don't hesitate in seeking out the help of others. Homesickness is not unusual - and it can be conquered!
Settling-in
The first term at university can be a challenging time. Trying to balance the social and academic demands of university can be difficult, not to mention tiring.

You may feel that everyone around you has settled in easily, made loads of friends and is also managing to excel academically. Don't worry, you are not alone!

Many students struggle in the first term whether it is finding friends, managing money or getting used to university level study. Even if you have been at university for a few weeks or months (or even years!), there are still things you can do to help you settle in and enjoy your time at Regent's.
Difficulties with studies
If you are having any difficulties with your studies, you do not have to go through this alone. Make sure you speak to your Student Achievement Officer or your Personal Tutor as soon as possible, so that we can find out how we can help you.

You can book an appointment with your Achievement Officer in the Student Hub on the ground floor of the Acland Building or online.
Attendance
The Regent's University London Attendance Guidance states that students are expected to attend all classes. This includes all seminars and lectures. Absences are not justified; students must attend a minimum of 75% of the classes per module. 
If illness or a situation beyond your control is affecting your attendance, please come and speak to us in Student Support as soon as possible so we can discuss your options with you and find out how we can help.
Student Achievement
Our Student Achievement team can help you get back on track if you are concerned about your grades, if you have missed a deadline or are struggling to maintain your attendance.

The Student Achievement Officers can help you compile a submission plan, suggest ways to improve your engagement and can recommend other university services that would benefit you.

This support is tailored to you, confidential, and will last for as long as you need it. You can book an appointment with your Student Achievement Officer online for the Spring term.
Financial Support
Make sure you have accessed all of the financial support for which you are eligible from Regent's such as bursaries, grants and scholarships. Please see the following links for details:
Banking and finance tips
Open a student bank account to take advantage of the special offers. Check what different banks are offering before you decide where to open an account. 

Budgeting advice
Make sure you don't spend all of your money at the start of term so that you have enough to see you through to the end.

Further guidance can be found by visiting the UCAS budget Calculator or for international students go to the Living in the UK section.

Council tax
Remember, students do not have to pay Council Tax. If you are asked to pay by the Council, do not just ignore the bill because the Council will need proof that you are a full time registered student, a student confirmation letter from can be obtained from Student Hub.

Part-time work
Your studies must always come first. However, if your programme allows you the time to do so, there are a range of part-time work opportunities available in London.

Information on how to find part-time work can be found by booking an appointment to see an advisor in the Careers and Business Relations Department using the Student Hub. There is also a full listing of available vacancies on the Student Hub from organisations who have contacted Regent's to advertise to students.
Hardship Fund
The University Hardship Fund is available to help with unexpected emergencies or specific unexpected course or health costs. Contact Student Support to find out if you are eligible for the Hardship Fund and how to apply.

Cost of living in London
The perceived cost of living and studying in London is a concern for many students. However, it is possible to live affordably in the capital by taking advantage of reduced price services and facilities on campus and beyond. This includes student discounts and concessions in shops, restaurants and bars, and by avoiding touristy areas of the city.
Below are some websites you might find useful for student discounts and offers:
Disability & Dyslexia services
If a disability affects your ability to participate in your chosen course or in campus life, please tell us about it as soon as possible, so that we can discuss your support needs with you. We offer a range of advice, information and support services for a range of disabilities, to help you make the most of your time at Regent's.

For further details, please visit our Disability & Dyslexia page.
Wellbeing
Wellbeing is about creating the right conditions for you to thrive. It's about your quality of life and having positive physical and mental health. Key to this is eating well, exercising regularly, maintaining a healthy sleeping pattern and socialising. We hope that the following advice pages on the NHS Live Well website will be helpful.