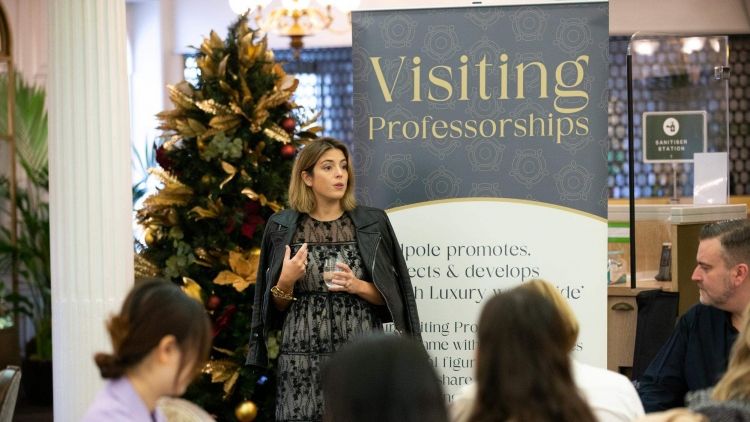 Alejandro Caro, Marketing Director at Harrods
Regent's fashion students were recently invited to experience a world of luxury at Knightsbridge based department store Harrods. 
During their visit, the students were treated to a thought-provoking talk, by Marketing Director Alejandro Caro. Alejandro delivered insights into the luxury retail and how Harrods delivers this experience to their consumers. 
During the session, Alejandro shared her thoughts on the luxury market and commented: 'There's not one definition of luxury. Luxury is that intangible quality that makes something feel special, and makes you want to treasure it forever. It's about history, about environment, about emotion – it's about people and Harrods is the one door that unlocks all of luxury.'
MA International Fashion Management student, Chloe Bern said: 'Today's event was so insightful – it was really useful to hear Ale's tips from inside the corporate world of Harrods. It's so exciting to hear about all of the upcoming trends and plans.
'I really appreciate the practical learning at Regent's. I don't feel like I'm in a school, but like I'm being immersed into the real world. It's a completely different learning experience – it opens up your mind so much and I believe it's such a core part of a Regent's education.'
Fellow MA International Fashion Management student, Aditya Choudhary said: 'Today's event was one like no other. Having breakfast here, exploring and being in contact with someone like Ale Caro is amazing. Everything she spoke about – not just about Harrods and sales, but the luxury market as a whole – is beyond comparable to anything you'd learn in a classroom.
'Regent's offers the chance to get out and about and experience the real world. You can explore and develop your ideas, experience successes and failures, and you'll always keep learning – inside the classroom and out.'
As part of the Visiting Professorship programme Regent's students are getting a chance to get closer than ever before to industry executives of global brands. At Regent's we aim to deliver a well-connected and entrepreneurial education, to help develop our students into one of tomorrow's global leaders and this talk from Alejandro is just one of the chances to get close to industry at Regent's.