Apply to study abroad in Spring 2022
If you have started your first term of your first year with Regent's University London in Spring 2021 on a degree programme eligible for study abroad, you will be able to apply to go abroad for Spring 2022.
Applications will open in February (date TBC) on eVision which you'll be able to access from the 'My Study Abroad' tab in your eVision account. If you are eligible to study abroad then you will be invited to a dedicated programme session soon to meet the team and get full details on how to apply.
Note, if you started with Regent's in Autumn 2020, we can still accept late applications to go abroad in Spring 2022 in some circumstances. Please contact us on [email protected]
Overview
Why study abroad?
If you go abroad as an exchange student you have a fantastic opportunity to add academic diversity and value to your degree, learn more about a different part of the world, about yourself and enhance your global leadership qualities. Plus you get to choose from over 60 exceptional partner institutions across more than 20 countries!
Students that have international experience are:

         • 19% more likely to get a First Class honours degree;
         • 10% more likely to be in a graduate job;
         • 20% less likely to be unemployed;
         • earn a 7% higher starting salary, and;
         • considered more effective as CEOs, Presidents and Managing Directors
           by 72% of companies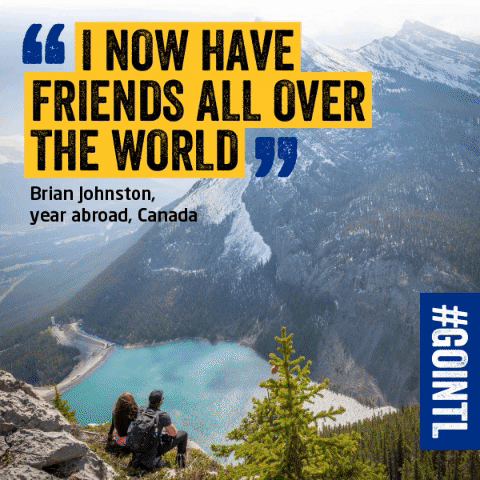 Whilst going abroad adds significant value to your degree, it is more than an academic adventure. It's a great way to enhance your language skills, your communication, confidence and problem-solving abilities. You will make new friends, explore your passions, experience a different part of the world and perhaps discover something about yourself you didn't know: what's not to like?

Our feedback shows that Regent's students find studying abroad a very valuable and beneficial part of their degree programme and we encourage all students to participate in this invigorating and challenging experience. Embrace it, join the thousands of Regent's students that have taken the journey and open the door to a lasting and positive influence on your life and future!
Click on the tabs at the top of this page for more.
How does it work?
Who can go abroad as an exchange student?
Regent's students enrolled in the following programmes are able to study abroad as an exchange student:
BA (Hons) International Business (all languages)
BA (Hons) Global Management (all pathways)*
BA (Hons) Liberal Studies (all majors)
BA (Hons) Film & Screen (Film Production)
BA (Hons) Film & Screen (Screenwriting & Producing)
BA (Hons) Film & Screen (TV & Digital Media)
BA (Hons) Acting for Stage & Screen
BA (Hons) Fashion Marketing
*Subject to approval from the Director of Content.
When can I go?
In your 4th term at Regent's (2nd term of 2nd year). If you are a BA (Hons) Liberal Studies student you can request to go abroad in your 1st term of 2nd year instead.
How do I apply?
You complete an online application during your first term at Regent's with a deadline for the end of that term. The team will guide you through this after your induction period and once you have settled in, we will arrange dedicated info sessions for you.
Timeline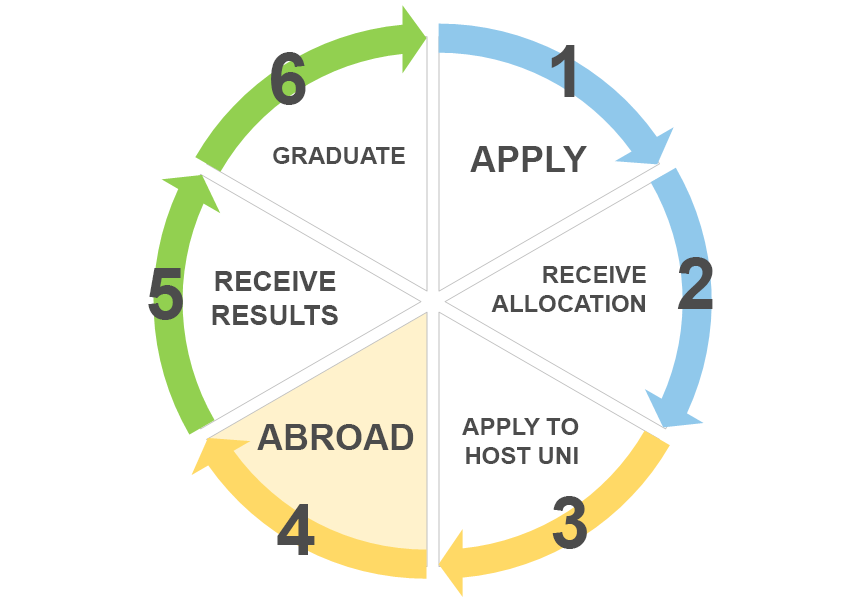 Where can I go?
Institutions by country
Argentina
Australia 
Austria
Belgium
Brazil
Canada
Chile
China
Czech Republic
Denmark
France
Germany
Italy
Japan
Mexico
Portugal
Russia
Spain
Switzerland
United Arab Emirates
Uruguay
USA
Institutions by programme
BA (Hons) Acting for Stage & Screen | BA (Hons) Fashion Marketing | BA (Hons) Film & Screen | BA (Hons) International Business | BA (Hons) Liberal Studies 
BA (Hons) Acting for Stage & Screen
BA (Hons) Fashion Marketing
BA (Hons) Film & Screen
BA (Hons) International Business
BA (Hons) Liberal Studies
Students in the Liberal Studies programme (in any major) may choose to complete an optional term abroad at any of our partner institutions, but this is subject to available space and approval of the appropriate modules available at that institution by your relevant Subject Leader and/or Head of Programme. Please see the "by country" tab to view all of our international exchange partners to help you to decide your selections. Generally speaking, the majority of our US exchange partners have suitable subject areas for most Liberal Studies majors. Please feel free to reach out to [email protected] with any questions if you are unsure.
BA (Hons) Global Management
Partners pending course mapping over summer 2020.
Other international opportunities
We are always looking to offer other global opportunities for students, from volunteering to summer schools to virtual experiences. The options below will be expanded upon in the coming terms, but if you want more information please get in touch with us for now.
Virtual internship opportunities with Pagoda Projects
Regent's has teamed up with Pagoda Projects to offer a variety of virtual summer internships at companies from a broad range of sectors across many countries. 
With a proven track record of delivering quality work experience, signing up for a Pagoda Projects' virtual internship over the summer is a great way to remain fully engaged in your development during this unusual time, and to benefit from exposure to different cultures' approach to business.
Each remote internship is a full-time position, Monday-Friday each week for the duration of the programme (although the exact number of working hours each week will differ slightly between the different host companies) and options include:
Option 1: 4 Week Programme
Monday 13 July – 7 August
Option 2: 8 Week Programme
Monday 13 July – 4 September
Option 3: 12 Week Programme
Monday 13 July – 2 October
There are over 100 different companies to choose from, meaning you could become a Graphic Designer in Ho Chi Minh City, a Business Development and Marketing Intern in Taipei, a Business Analyst in Mexico City or an Environmental Psychologist in Qingdao!
Cost
The programme fee is usually £1,495 per person for the 4, 8 or 12-week option, however Regent's has secured a huge £900 saving for students, meaning the fee is now just £595 per person. There's no upfront payment or application fee to start the process, and the fee is only due when you have secured an internship you're happy with.
As part of the Remote Internship Programme, you will be partnered with a cultural mentor who will help you increase your intercultural awareness. This cultural exposure will not only assist you during your internship (collaborating with colleagues and external partners) but will also connect you with other students from all corners of the globe.
For an overview of the programme, click here, and for an overview of the benefits of the programme, click here.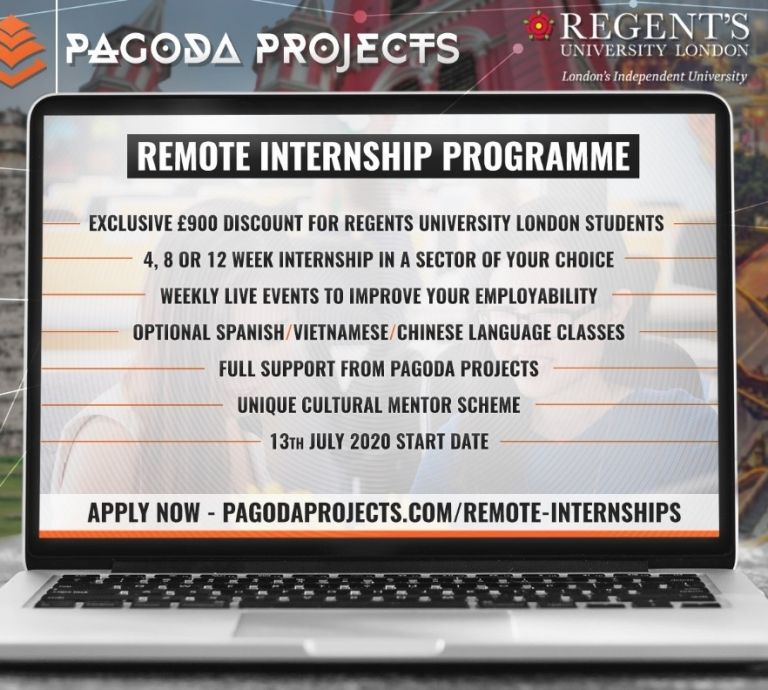 Erasmus+

The Erasmus+ programme is funded by the European Commission and provides opportunities for students to study and work abroad.
The programme aims to modernise education, training and youth work across Europe. It supports student and staff individual mobility and collaboration between universities. It also helps to boost employability and improves opportunities for young people.
All Regent's students can be eligible for an Erasmus grant. Grants are supplementary, non-repayable and are intended to contribute to any expenses incurred during the period abroad. 
Erasmus grants are available to students who carry out a study or work period abroad in one of the Erasmus Programme Countries. 
Types of grants available
Study 
Study period abroad: minimum three months (90 days) 
Monthly grant of €370-€420 per month depending on host country
All credits obtained abroad are transferred on return to Regent's, and count towards the degree.
Traineeship (work placement)
Minimum duration: two months (60 days) 
Monthly grant of €470-€520 per month depending on host country 
Graduate Traineeship  
This opportunity is for any student (undergraduate or postgraduate) in their final year at Regent's
Must be agreed in the final year at Regent's and can be undertaken within a year of graduation
Minimum duration of a placement: two months (60 days).
Additional grants 
For students from disadvantaged backgrounds 
For students with special needs where participation would not be possible without extra financial support
If you are a prospective student considering studying at Regent's as part of your degree, please see the Inbound to Regent's page.