Overview
Whether you intend to start a new venture, run a creative organisation, or join a family business, an enterprising mindset is essential. Entrepreneurialism is all about having the right attitude and mindset. This can't happen in a classroom environment alone – you need to get your ideas out there, fail early and often, and develop the resilience needed to succeed. 
This course teaches you how to enhance your enterprise acumen, so you can become successful in your field. It bridges the gap between academia and practical experience – giving you the platform to test out your ideas, collaborate with others and learn how to solve complex enterprise-related problems.
The structure has been designed flexibly to enable you to specialise in one of three areas of enterprise (subject to demand) by choosing electives that resonate with you – whether your interests are in family enterprises, new ventures or creative industries.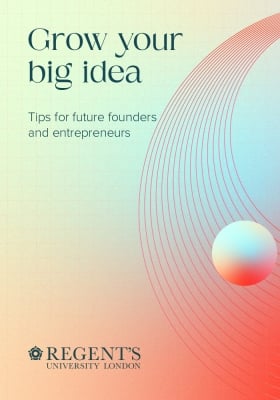 Future entrepreneurs – grow your big ideas
You're an innovator and an entrepreneur. If you've got a creative idea, learn how to grow it, right here at Regent's. Download our guide to get started. 
Using a range of case studies, you'll examine different business models – from start-ups to high growth organisations. This knowledge will help you to recognise the practical and ethical dimensions of enterprise, giving you the skills to develop effective solutions.
As an entrepreneur, you must always be ready to talk about your vision. This course will prepare you with the skills to successfully communicate your ideas and attract potential stakeholders and industry partners. You will also learn how to determine the managerial and resource priorities that enable enterprises to operate efficiently, sustainably and successfully. 
This course is also accredited by the Chartered Management Institute (CMI). This means when you register for the course, you can also choose to enrol in the CMI dual award as well. Doing so gives you access to a range of opportunities, and means you'll graduate with a Level 7 Diploma in Strategic Management and Leadership Practice when you successfully complete your degree.
Once you're enrolled on the CMI qualification, you'll also receive: 
Mentorship from a member of the CMI 
Activities accredited for Continuing Professional Development
A variety of CMI events with networking opportunities
Consultations with specialist advisers to develop your career 
A vast library of the latest research and thinking
This can fast-track your career development – enabling you to quickly become a Chartered Manager (CMgr).
Key features
Taught by staff and guest speakers with extensive and diverse industry experience
Access to Handshake: jobs and connections with 650k+ global employers (including 100% of Fortune 500 companies)
Participate in entrepreneurship weeks and summer schools
Be part of Regent's cosmopolitan community and build a global network of contacts
Access London's enterprise landscape
How to apply
Applying to Regent's is quick and easy. We accept direct applications year-round and there's no application fee. If you haven't received your exam results, you can still apply and we'll issue you with a conditional offer. You just need be clear in your application which qualifications you're currently studying for.
Step 1: Apply
During the application process, you'll have the chance to upload supporting documents, including:
A copy of your passport (photograph ID page)
Academic transcripts and certificates from all previous studies
A 500-700 word personal statement (view guidance)
If you're not a native English speaker, proof of your English proficiency
Credit transfer
If you've already studied part of your degree elsewhere, you may be able to apply for Recognition of Prior Learning (RPL) and join your new course at an advanced entry point. To apply for RPL, you'll need to state this clearly in your application and provide us with the certificates, transcripts and module descriptions for your previous course.
Step 2: Receive a response
You can expect to receive a decision on your application within 10 working days. We'll assess whether you meet our entry requirements and will notify you of our decision via email. UCAS applicants will also receive official notification via the UCAS system.
For some of our courses, the selection process may include an interview or audition. They can take the form of a one-to-one interview, a group interview or a portfolio review, which may be conducted by telephone or online. Arrangements of these are made between you and the Admissions department.
Step 3: Accept your offer
If you wish to accept your offer, you must pay your (non-refundable) advance tuition fee deposit. This will confirm your place. Here's how.
Step 4: Register 
Closer to the start of term, our Admissions team will send instructions regarding your registration process. This will include information on completing your online enrolment before you arrive, as well as a checklist of documents you'll need to bring with you to campus.
Information for international students
If you're an overseas student, you'll likely require a visa to study in the UK. Here's how to apply.
Scholarships and funding
There are a wide variety of funding and scholarship opportunities to help you finance your studies. For more information, please visit our scholarships and funding page.
Fees
Tuition fee: 
£23,000 for the academic year starting in September 2023.
£26,000 for the academic year starting in September 2024.
Non-refundable advance deposit:
UK students: £1,000
International students: £4,000
Read more about tuition fees.
If you receive an offer for a course, you'll receive a pro forma invoice. To accept your offer and secure your place, pay your deposit payment as soon as possible.
The remaining portion of your first year's tuition fees will be due when you enrol. At this time, you'll receive your invoice for the full year. You can choose to pay for the year in full before the start of your first academic year or in two instalments, spread out across the academic year. The dates of these instalments will be determined by when your course starts.
What do fees include?
Fees cover the cost of all tuition and access to the University's IT infrastructure and library learning resources. Fees are presented for the first level of study which equates to two terms. 
What other costs should I budget for?
You will need to budget additional funds for accommodation and living expenses, travel, and any additional trips, visits, activities or courses that you choose to participate in outside of the tuition offered as part of your course.
The library holds a limited number of copies of core textbooks and where possible in e-format. You will be encouraged to purchase your own textbooks and will need to budget approximately £80-£100 per year, depending on your course.
How you'll learn
At Regent's you'll have the freedom to explore your interests in a supportive and nurturing environment with interactive classes, regular one-to-one contact with tutors, specialist facilities, industry opportunities and tailored careers advice – ensuring you develop the skills, experience and confidence you need to succeed.
We centre our teaching around your individual goals, identifying support you need to thrive. You'll be part of a collaborative environment, that brings all the nuances of the international business world to life in the classroom: facilitating entrepreneurship and teamwork as you explore current issues and propose solutions to real problems.
You'll pair deep industry knowledge with hands-on experiences, taking part in a blend of learning formats to give your studies context:
Seminars and lectures
Practical workshops and creative labs
Industry masterclasses
Business bootcamps and simulations 
Group work and pitches
Live briefs and consultancy work 
Industry placements 
You'll create strategies and business plans, analyse data, develop multimedia assets, work together on pitches and product launches – with access to specialist technological equipment: 
Thomson Reuters Eikon Terminals 
Bloomberg L.P Terminals 
Datastream including Worldscope databases 
A dedicated trading simulation room
Based in London, you'll also have opportunities to meet employers through guest lectures, live briefs, field trips and industry visits – giving you insights into the world of business and enabling you to put theory into practice.
Teaching staff 
You'll be taught by a variety of business leaders and research-active academics, who regularly have work published in journals and collaborate with institutions, such as BBC News. Their knowledge and experience ensure your classes are shaped by the most current industry practices.
You'll also be allocated a personal tutor, who'll meet you on a one-to-one basis at various stages throughout the year to provide you with guidance and advice to support your personal and professional development.
We're really proud of the global nature of our business courses, and our tutors also reflect this ethos – coming from a wide variety of countries and cultures across the world. In every way, you'll feel part of a global family.
Independent learning
Throughout the course, you'll be expected to undertake extra reading, research, revision and reflection, as well as preparing work for workshops, and working collaboratively with other students in preparation for assessment.
Method of assessment
Your skills and knowledge will be assessed via a wide range of task-based projects, reports, presentations, debates, research plans and live and simulated briefs – as well as essays, case study analysis and data collection. It's important to us that your learning and assessment is:
Inclusive – fostering a student-focused approach
Engaging – encouraging interaction and participation
Authentic – based on real business challenges
Disability support
We welcome and support students with a wide range of disabilities and health concerns, including learning difficulties, visual and hearing impairments, mental health difficulties, autism conditions, mobility difficulties and temporary or chronic health conditions. 
Our Student Support & Welfare team is here to support you. We ask that you speak with us as early as possible to enable us to support you. Find out more about our disability support and contact us.
Academic requirements
We're interested in your potential, as well as your prior achievements – and review each application comprehensively on its own merit.
Minimum entry requirements for Level 7 – you'll need one of the following qualifications:
Minimum second class UK undergraduate degree
Equivalent international qualifications, as deemed acceptable by Regent's
We also welcome applications from students who don't meet our entry requirements. In order to be accepted for exceptional entry, you must:
Have one year of work experience (if you hold a degree lower than a 2:2)
Have three years of work experience (if you don't hold a degree)
Provide a 500-700 word personal statement outlining your reasons for applying, and how your previous experience is of relevance to the programme you are applying for
Be prepared to attend an interview with the Postgraduate Admissions Panel
Provide evidence of your English language proficiency
This will be assessed on a case-by-case basis by academic referral only.
English language requirements 
Minimum English proficiency requirement through one of the following qualifications (or equivalent):
| Qualification | Subject | Grade |
| --- | --- | --- |
| GSCE* | English | C (4) |
| PTE Academic | Academic | Overall score of 67, with 59 or above in each component |
| IB SL or HL* | English A | 4 |
| IB HL* | English B | 5 |
| US HSD (studied in a majority English-speaking country)* | Cumulative GPA | 2.5 |
| IELTS* | Academic | Overall score of 6.5, with 5.5 or above in each component |
| UG degree | From English-speaking countries – defined by the UKVI | Second class |
Please note, we do not accept home/online editions of English language tests.
*Qualification satisfies the English language requirements of the UKVI for non-UK/Irish nationals.
We also offer conditional students a free, online diagnostic test known as the Regent's English Proficiency Test (REPT). This must be booked in advance. Discover more.
Careers
You'll graduate with the skills needed to become a successful entrepreneur – ready to:
Launch your own venture
Improve an existing business or creative enterprise
Join or re-join a family businesses
You'll graduate with the transferable skills needed to choose any career that aligns with your interests.
Graduate visa
After you've completed your course, you may be eligible to apply for a Graduate visa. This enables you to work, or look for work, in the UK for up to two years after you leave Regent's, without the pressure of having to secure a job immediately – applying your skills and advancing your career with valuable experiences and industry connections.
Careers support
Don't worry if you feel overwhelmed – our Careers, Enterprise and Industry team are here to provide personalised advice and access to resources for life!
24/7 access to online guidance and resources
Exclusive internships, networking opportunities and industry events
Personalised consultations – from interview and CV prep to business advice
Access to Handshake, connecting you with 650k+ global employers
MA Entrepreneurship
Core Modules
Module Title
Research in Practice
This module will help you develop enterprise research capabilities and knowledge that will enable you to successfully undertake independent research. Owners and managers of enterprises often need to rely on research-based information to make decisions. To make best use of such material, and to ensure that decisions are made on correct interpretations, it is necessary to understand the strengths and weaknesses of the methods and techniques used to collect and analyse such information.

This module aims to support you with: the knowledge and understanding to critically appraise data in enterprise-related fields; the required capabilities, tools and techniques to analyse, critically assess and ethically consider the different types of approaches used in conducting effective research; the ability to assess the validity and reliability of your own and others' research; and the capabilities to design your own enterprise research proposals.

Marketing and Finance for Enterprise
This module is designed to equip you with theoretical and practical insight and competence in the fields of marketing and finance for enterprise. The focus is on developing strategic approaches that will help you to achieve competitive advantage, build USPs and develop your proposition.

Marketing and finance represent key interfaces between an enterprise and its stakeholders – and therefore they encompass strong practical dimensions that are inseparable from the conceptual frameworks that underpin them. You'll learn to relate key concepts to everyday enterprise activities such as investing in promotions or financing growth. The aims are for you to critique marketing practices, at both operational and strategic levels; appreciate the different elements in a statutorily required Annual Report; reflect on the issues in developing a relevant and flexible market-oriented enterprise in dynamic market environments; creatively apply such knowledge to enterprise valuations that enable management and investment decisions; engage in the marketing planning process, from audit to strategic decision making and implementation; develop effective resource management and monitoring techniques to help achieve strategic marketing objectives; and utilise finance and accounting knowledge to best effect for enterprise.
Elements of Enterprise
This module combines ideas and concepts from the enterprise field to create a learning environment that allows you to deconstruct taken-for-granted tools, theories and practices by thinking 'outside of the box'. You'll create proactive solutions to contemporary enterprise issues and develop the ability to stretch boundaries in an attempt to identify innovative enterprising solutions. By stretching your thinking, intellectual, creative and innovative skills, it is hoped you'll make better enterprise managers and leaders.

The aims of the module are to: equip you with skills that help you develop innovative ways of solving problems; challenge you to take reasonable risks by stepping out of your comfort zone; develop and act upon innate potential in creative thinking, imagination, innovation and entrepreneurship to find solutions to enterprise-related issues; develop critical thinking around a new enterprise and determine the managerial and resource priorities required to enable the proposed enterprise to operate efficiently, sustainably and successfully. You'll also demonstrate the application of presentational, analytical and evaluative skills to evaluate contemporary challenges to enterprise and society; develop skills for robust data enquiry in complex environments; and develop abilities to bring together various aspects of research and analysis, leading to an overall conclusion towards the enterprise idea.

Sustainability for Enterprise
This module provides an understanding of the increasingly central role of sustainability in enterprise strategy, and examines the trajectory of current enterprise practice.

It will embody a critical understanding of the increasing need of the enterprise manager to adapt and leverage sustainability constructs, providing you with a contemporary understanding of the external issues that are driving enterprises to engage with sustainability. It will cover recent ecological and social drivers that are externally impacting businesses around the world, and the contemporary moves by stakeholder groups to engage enterprises in embedding the full spectrum of sustainability strategies into their operational models – in particular, supply chains. Theories and case studies around sustainability engagement in support of the earnings imperative will also be critiqued. This will be positioned in the context of the maturity of enterprises in their development and application of sustainability strategies.

This module provides students who may have no previous sustainability background with an overview of the key concepts and theories. Those who do have previous sustainability or operational supply chain experience will learn how the nature of enterprise management is changing as a result of developments within sustainability.

Enterprise Project
In this module, you'll prepare a plan for an enterprise project. This typically consists of a feasibility research section, a start-up plan, and a reflective report that includes individual elements about your experience. You'll deliver a presentation to your supervisor and another member of the academic staff. If agreed with your supervisor, other relevant parties may also be invited to the presentation. This is the course's major module and is an opportunity to apply your knowledge in a real enterprise environment.

You'll negotiate the structure of the project with your supervisor and any other external parties involved, and you're expected to take a high degree of responsibility for your own learning.
Enterprise Dissertation
You'll undertake research to produce a dissertation on a topic related to enterprise. This is the final module in the course and builds upon prior modules to allow you to apply your knowledge through research into an enterprise topic of interest. You'll be expected to take a high degree of responsibility for your own learning and you'll need to demonstrate your ability to critically evaluate research, self-direction in identifying and tackling problems of a complex nature and independent thought and evaluation, with the help and guidance of a supervisor.

You'll bring together the knowledge and understanding gained through other modules to identify an issue, investigate and throw light on that area, drawing in particular on the skills developed in the Research in Practice module – considering the appropriate methodology and drawing on current research and advanced scholarship in the discipline.

The dissertation allows you to demonstrate that you're able to conduct research that is rigorous and develop creative solutions to complex problems – giving you the opportunity to demonstrate your abilities to formulate your own research question, gather and select material to answer your question through critical analysis and evaluation of your material, and communicate your findings by presenting a coherent argument in an appropriate academic style.

Elective Modules
Module Title
Challenges in Family Enterprises
Family businesses are one of the earliest forms of economic organisation – and they still play a key role in the development of every aspect of the economy of every nation. Starting up, developing and maintaining such businesses requires a dedicated entrepreneurial spirit and a range of management skills.

Family businesses are started by individuals who have strong entrepreneurial tendencies. Those that survive have managed to sustain this spirit from one generation to the next.

This module helps you to understand the challenges that family and non-family members face in developing a sustainable family enterprise – a business that continues to satisfy the complex needs of individuals and helps the family build and maintain a desired level of wealth.

Challenges in Creative Industries
The concept of 'creative industries' has been in existence for just over 20 years. In this module, you'll investigate their importance – recognised by almost every government in the world as it begins to give way to a much more inclusive idea of a wider 'creative economy'.

You'll take an investigative look at the past 20 years of the 'creative industries' – including advertising, architecture, arts and culture, craft, creative technologies, design, fashion, games, music, publishing, TV and film. You'll begin to understand how increasing demographics, better access to ICTs and dynamic shifts to new lifestyles are associated with creative products and services, and why this makes trade in these sectors a promising avenue for future growth.

You'll also learn about the theories, frameworks and models that help to ensure the creative industries remain a vibrant and resilient sector, able to exploit the opportunities that advanced digital technologies present – including large-scale investment, interventions and collaboration.

You'll have exciting class conversations about how the creative industries must develop greater interdisciplinary practice across industries, particularly the tech and financial sectors, to maintain growth increase the importance of the collection of activities. You'll learn about how digitisation of both content and distribution has posed significant challenges, and how these will continue as we see the increased influence of artificial intelligence in the world around us.

Finally, but importantly, you'll learn about how this sector will need to maintain relevance and value with its consumers and continue to adapt, innovate and develop its talent pool and infrastructure in order to meet the global cultural shifts currently taking place.

Challenges in New Ventures
This module will introduce you to the concepts of entrepreneurship and innovation from the perspective of individuals, firms, industries and countries. It describes the challenges individuals and firms face in pursuing new ventures, entrepreneurship and innovation, identifies the factors associated with success; and explores the outcomes of entrepreneurship and innovation, including firm growth.
You'll explore contexts such as new businesses, small- and medium sized enterprises, high growth firms, high-tech firms, and rapidly internationalising firms – and you'll be introduced to different perspectives, theories and research underpinning entrepreneurship and innovation.
In particular, the module provides an understanding of the different approaches to the management of entrepreneurship and innovation, reviews and challenges the success of entrepreneurship and innovation, and introduces a variety of models and tools to support innovation. You'll focus on the challenges involved in managing entrepreneurial ventures, in start-ups and small early-stage, high growth entrepreneurial ventures.

Planning for Family Enterprises
This module sets out to build on the content covered in the module Challenges in Family Enterprises. You'll identify how planning can help to ensure that the inevitable conflict in the interests of the family, the business and the shareholders, is positively controlled – ensuring that the business is sustainable and professionally run.

You'll learn that there are several different aspects of the relationship between the family and the enterprise that need to be addressed. All of these are interrelated and a healthy and sustainable family enterprise will have ensured that it has clear policies that cover issues such as family governance, business governance, succession and the management of family wealth.

After completing this module, you'll be able to assess how relatively healthy a family enterprise is and recommend what actions they need to take to ensure that it is sustainable from generation to generation. You'll be able to identify what role you could play in the family enterprise in the future and what additional skills and experience you would need to gain to be effective. Finally, you'll be able to recognise that the quality of the relationships between different stakeholders within a business has a crucial impact on its relative success.

Planning for Creative Industries
This module will give you the tools with which you can develop an ability to plan, prepare and adapt your ideas, and define your strategies to start and successfully run your own enterprise. It will draw upon core modules from term one, including 'Research in Practice' and 'Marketing and Finance for Enterprise', and will complement all subsequent modules in a practical and experiential way.

The module will give you an in-depth learning experience in preparing and writing your own business plan that's specifically tailored for the creative industries and covers the necessary steps and processes of business planning, writing and presenting – and will equip you with the skills to produce a robust plan to present to potential investors from within the creative sector. You'll be provided with the necessary knowledge and skills to write your own strategy, fully supported by financial forecasts and data. You'll learn the necessary skills and knowledge to analyse, critically assess, ethically and sustainably consider, and objectively judge business proposals on their own merit and assess the likelihood of them succeeding in today's challenging environment.

Through the module, you'll be given illustrations of the importance of project deadlines and project management and develop an appreciation of the impact delays to business launches may have on your particular creative enterprise.

Planning for New Ventures
This module will provide you with a practical guide to the key issues surrounding planning and realising a business opportunity. This module goes beyond the traditional 'How to write a business plan' manual by offering a flexible, testable and imaginative future-oriented approach to venture planning.

You'll learn how to create a credible and persuasive plan that is essential to sell most business concepts to potential investors, partners, customers and suppliers – and will enable you to develop an understanding of how essential new venture planning tools work to exploit and manage opportunities.

As part of the module, you'll work on the design for a new venture, prototyping and producing an investor-facing business plan with an accompanying business model – essential skills and activities for entrepreneurial learners, both highly appreciated by potential employers and pivotal to the effective creation of start-up, intrapreneurial and corporate venturing projects. Through the module, you'll acquire a knowledge of the key tools used in entrepreneurial finance, gain an understanding and appreciation of the link between entrepreneurial business, plans and finance; understand the financial implications of entrepreneurial business plans and decisions; see how entrepreneurial business decisions affect firm value; and gain experience-driven skills in the art of valuation planning for entrepreneurial companies.

Business Analytics
Business analytics has become a crucial strategic tool for organisations of all sizes in identifying market trends and patterns and optimising business processes and decision-making. This module is designed to develop your understanding of the key technologies involved in managing business information – learning to interpret, conceptualise and convert data into useful information that improves organisations' performance. It includes a practical component to help develop your analytical skills using SAS software that empowers users to analyse data and publish their results. These skills are more vital than ever in large and SME organisations and, as such, graduates with an understanding of business analytics are increasingly in-demand in the job market.
Managing Complexity
Complexity is one of the most important challenges for global managers and leaders to overcome. The demands of managing in a complex landscape requires specific knowledge and understanding to promote adaptability, learning, creative problem solving and confidence –enabling the organisation to flourish.

This complexity arises from operating in multiple geographical markets, engaging in multifunctional activities and dealing with heterogeneity in terms of countries, cultures, legislations and tasks. In other words, global managers and leaders function in many different contexts across cultural geographical and socio-political environments. Hence, they should be prepared to think, act and communicate differently based on a given situation – rapidly accommodating global business challenges. Therefore, complexity is determined by the environment in which global managers and leaders and work. Although naturally different, environments that drive complexity share four common conditions: multiplicity, interdependence, ambiguity and flux.

Multiplicity refers to the variability of competitors, customers, governments and stakeholders that global leaders have to confront in their roles.
Interdependence: reflecting the rapid, worldwide movement and interconnectedness of capital, information and people. Ambiguity: the business world today is characterised by too much ambiguous information, with less and less clarity on how to interpret and apply insights. And lastly, flux: a situation in which everything is in constant change.

The ability to understand the four characteristics of complexity produces a multiplier effect, which reflects the inherent context of global management and leadership.

Coping with the complexity of today's business environment is not about predicting the future or reducing risk – but about building the capacity for global managers and leaders to adapt continuously and learn speedily in order to maximise opportunities and, at times, survive in an intensely connected and complex world.

Social Media Marketing Analytics
Marketing communications play a vital role in supporting and maintaining a brand. This once one-way conversation then moved to dialogue and has now become a multilogue with the exponential growth in word of mouth (WOM) social media marketing. This module will introduce you to the key concepts.

You'll learn how to understand, critically evaluate and apply conceptual social media frameworks, theories and approaches. You'll discover how social media networks are used as part of the marketing strategies of different organisations and learn to harness the key metrics and tools to listen, monitor and manage communications. The module also aims to develop your strategic understanding of how to build and manage social media marketing campaigns to impact your identified target audiences and integrate with other relevant media.

Technology and Innovation
Economic growth, increased wealth, higher standards of living and better quality of life all depend upon productivity increases. And increased productivity is primarily a function of technology and innovation.

This module will focus on both the macro aspects – how technology and innovation have contributed to the making of the modern world – and the micro aspects – how technological changes and innovation influence business and enterprise.

It will also focus on what factors – social, political, economic, cultural, geographic and religious – have been conducive or detrimental to the success of technology and innovation, on both macro and micro levels.

There will be special emphasis on the management of technology and innovation, with case studies in different industries and countries used to illustrate and analyse the concepts and ideas covered.