The Third International Peace Summit, hosted in partnership with the Tutu Foundation, was a resounding success with expert mediators and activists relaying their experiences of bringing justice and mediating international and domestic conflicts.
The International Peace Summit arose, as Regent's University London's Chair of the Board of Trustees – Dr Diana Walford CBE – said in her welcome speech to delegates, from "a very fruitful relationship between the Tutu Foundation and Regent's University London."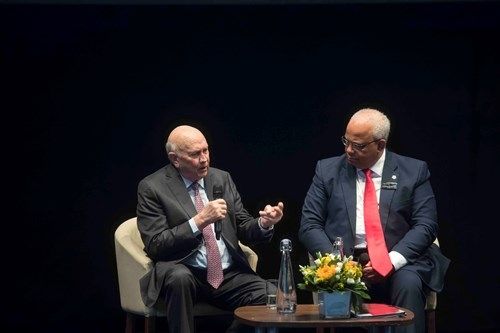 FW de Klerk speaking at the third International Peace Summit, hosted in partnership with the Tutu Foundation
Speakers included activist and co-founder of SCM Direct, Gina Miller, who spoke candidly about her experiences of successfully challenging the UK Government over its authority to implement Brexit and healing the wounds of division in British society. She said: "I have chosen battles that do appear impossible and others have often told me I would be winning against the odds if I ever did."
She continued: "At the time of my court case against the UK Government, my legal team and I were told it would be impossible to take on such a huge constitutional case in a post 2016 referendum environment…We would never have enough time or garner enough support and we would not simply not succeed.
And I listened to that little voice in my head that said, you just have to get on and do it, because it will become impossible if you don't try. And the rest is history."
Miller concluded her inspiring talk with: "We have to masters of our destiny and confront those impossibilities, otherwise we do not deserve the world we want to live in."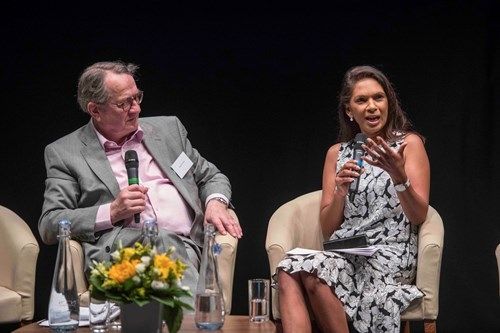 Brexit campaigner Gina Miller
Other topics of discussion on the day included the 'Oslo Agreement – 25 Years on' with a panel of speakers such as human rights activist Maysa Barasi, and Regent's University London's, Professor Yossi Mekelberg. Reflecting on the legacy of the Oslo agreement, Professor Yossi said: "Later this year, will mark the anniversary of the Oslo Agreement. Sadly it will only be marked and not celebrated.
The Agreement failed to achieve the ultimate goal for reaching everlasting peace and justice and resolving the issues that divide the Israelis and the Palestinians."
He continued: "However, Oslo is a process and an idea that left a legacy. It left a legacy of engagements, mutual recognition about the conflict.
A second observation came from Oslo regarding mediating conflict is that there is an element of luck when creating peace. And when these opportunities present themselves, leaders should take it as such opportunities disappear quickly."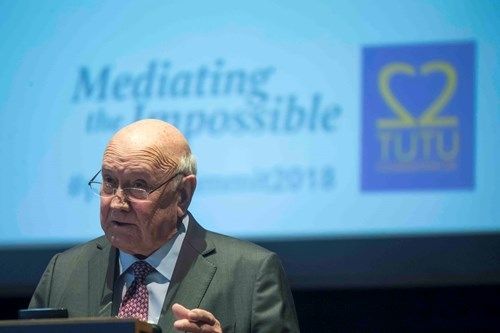 Former South African President and Nobel Prize winner FW de Klerk
Regent's University London was also honoured to have Former State President and Nobel Prize Winner, FW de Klerk talk. Introduced by Regent's University London's Chancellor, Lord Michael Hastings, Lord Hastings said: "President de Klerk managed to bring about one of biggest shifts in geopolitical activity on the continent of Africa and has become himself a figure of peace making and reconciliation through mediation and common sense politics."
On his reflections on his term in office and the current state of South Africa, FW de Klerk said: "Our experience of the peaceful resolution of South Africa's racial division 24 years ago seemed to show that even the most intractable problems and disputes could be resolved peacefully by compromise and negotiation. Our experience gave new hope to the world that it might possible to mediate the impossible that other long standing disputes might be resolved by peaceful negotiations.
"Our approach was based on the following realities - whether we liked it or not, there could be no long-term solution that did not involve all the major parties of our county. Our problems could only be solved by negotiation. Any attempt by any party to continue to impose its will on its opponent by force or elsewise would simply leave to the destruction of the county and the economy."
He concluded: "Our new constitution was not an end in itself but a framework where we must continue our research for a much fairer and equal society. We hope that our experience will continue to be an inspiration to others and continue to help other peace makers… to mediate the impossible. Nothing in the end is impossible."