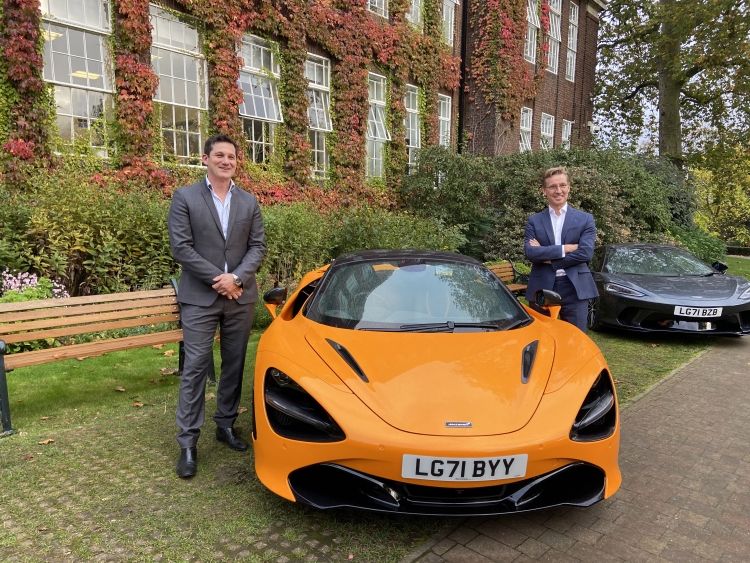 Gareth Dunsmore, CMO McLaren Automotive and Professor Geoff Smith, CEO Regent's
Regent's welcomed Visiting Professor Gareth Dunsmore to deliver a lecture on the inner workings of luxury car maker, McLaren Automotive. 
Attracting students and alumni from a range of courses and backgrounds, Gareth delivered his lecture on campus to a packed Tuke Hall. During the lecture, Gareth spoke about his career to date, the set up of McLaren Automotive and the future direction of the brand. 
There was also a Q&A section of the event, where students and alumni got a chance to grill Gareth on sustainability, his career and passion for the automotive industry. A group of students were then invited to a breakout session with Gareth, where they had the opportunity to share feedback on McLaren and the McLaren Automotive team could gain valuable insight from a sample of Gen Z luxury consumers.
Regent's students were then offered the chance to photograph two McLaren Automotive supercars parked outside on the Regent's campus.
Launched in partnership with Walpole, the official sector body for British Luxury, the Regent's Visiting Professorship programme is offering students a chance to get closer than ever before to industry CEOs and MDs. Through the mutually beneficial partnership, some Regent's students will be fortunate enough to gain behind-the-scenes access and live project opportunities in these global brands. The Visiting Professors (and their teams) will also benefit from gaining access to a cohort of students who are cosmopolitan, entrepreneurial and NextGen luxury consumers.