Regent's University London last night honoured the winners of its international schools competitions in a ceremony held on campus, before a private view of the work of Regent's 2019 graduating students.  
Out of a total of 36 entries across the four competitions – fashion, interior design, acting and filmmaking – submissions were shortlisted to three per category.
Open to students in schools and colleges around the world, the entries were judged by Regent's academics – all experts in their own fields – and the shortlisted students were invited to attend the ceremony and attend the graduate show relevant to their discipline. All winners and runners up also received a book prize from Bloomsbury Publishing.
First up was acting, and Anna Sullivan, Course Leader in Foundation Acting, acknowledged the winning performance by Marcelina Escobar Vargas was no mean feat for an actress of her age.
'It was an extraordinary performance – she chose to play Lady M in the "Scottish Play". It was a very mature performance, and she managed to make Shakespearean iambic pentameter sound contemporary conversation, and the very best kind of contemporary conversation.'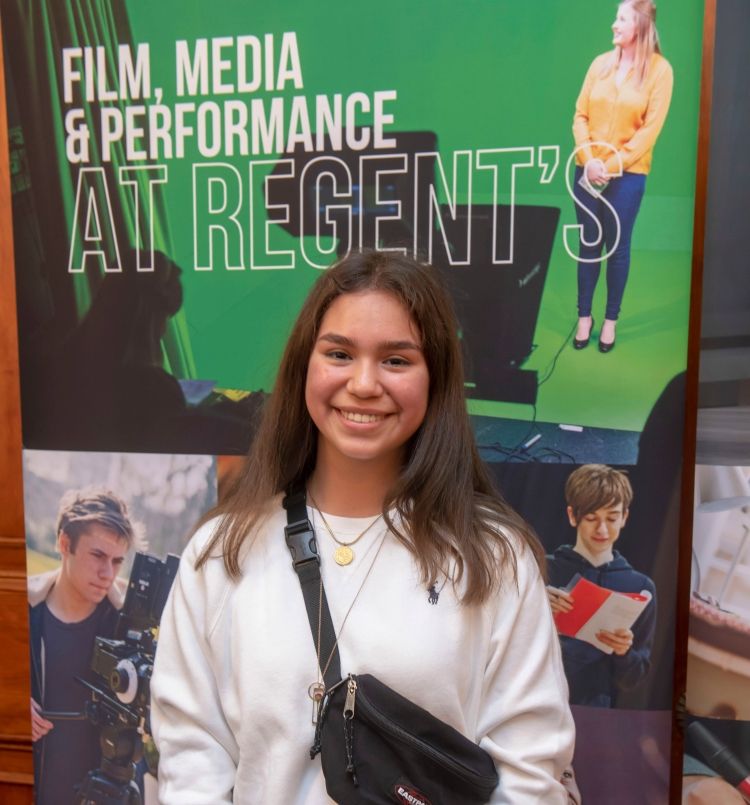 Acting winner, Marcelina Escobar Vargas
Acting competition shortlist:
Marta Kondratuik – EF Academy
Wambui Hardcastle - Sacred Heart High School Fenham
Marcelina Escobar Vargas – International School Hannover Region
The award for filmmaking, presented by Tristan Tull, Senior Lecturer in Film, went to Sydney Brunnschweiler, whose film, part travelogue, part personal family story allowed Sydney to share her family's journey of moving to a new country (Germany, from America), and how it affected each member of her family.
'You were there on all the important moments with your camera, therefore were able to create a compelling story in just a few minutes,' said Tull.
'From the look on your mother's face when she heard the news that she was moving to Germany to the sisterly hug - you have blended reality with reconstructions to tell us your story - I think this should be a reality series!'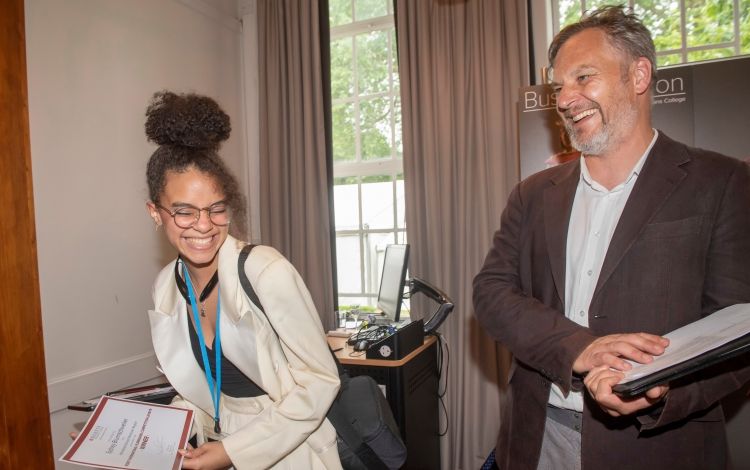 Tristan Tull presents Sydney Brunnschweiler with her filmmaking award
Filmmaking competition shortlist:
Omer Dernek - Koc High School
Maulida Imanova - Nazarbayev Intellectual School
Sydney Brunnschweiler- International School Hannover Region
Laoura Englezou, Course Leader for Interior Design, said having the students and teachers from Gulliver Preparatory School at Regent's was a great pleasure, and that the work of their students was consistently of a high quality and produced thoughtful responses to the interior design brief. 
The winning submission, Zen Quarter, by Audrey Apollon, focussed on nature, providing ocean views, and was 'a great response to the brief.'
'The presentation boards show an interesting conceptual development process, but what makes her proposal stand out is how her visualisation communicates successfully the idea but also what it would be like for users to inhabit the space and experience this view,' said Engelzou.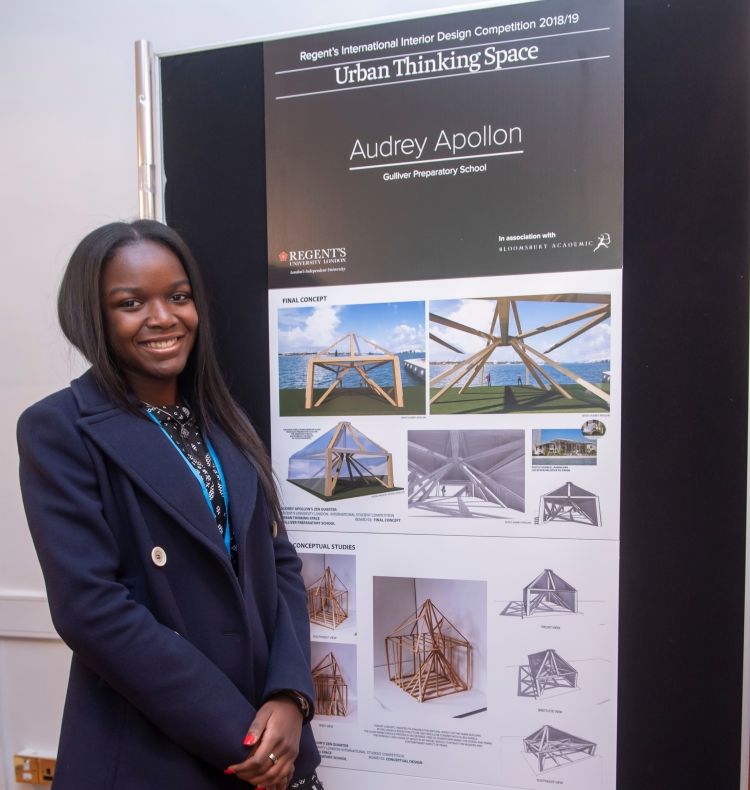 Audrey Apollon with her submission, Zen Quarter
Interior Design competition shortlist:
Maria Gomes - Gulliver Preparatory School
Sebastian Merlo-Garzon - Gulliver Preparatory School
Audrey Apollon - Gulliver Preparatory School
The final award of the evening was presented by Steven Dell, Course Leader for Fashion Design, who praised the 'really exceptional work' of all shortlisted candidates, whose brief was to look at fashion futures - environment, climate and sustainability.
Leal Darya Serefoglu's winning design was inspired by space, and 'exploring the futuristic concept – incorporating the idea of technology to enhance and store energy as well as protecting the wearer from environmental changes in the future,' said Dell.
'We thought it was a very contemporary fashion statement - the luxurious materials combined with mastering print and surface embellishments. Well done!'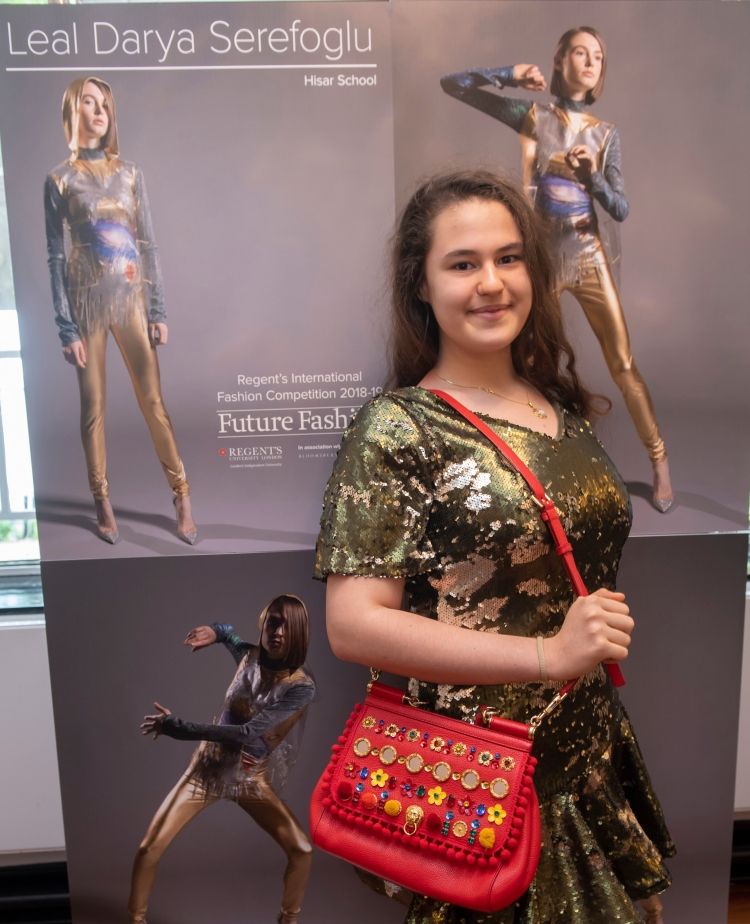 Leal Darya Serefoglu and her winning fashion design
Fashion competition shortlist:
Busenur Simon - Ted Ronesans College
Jasmine Lobo - The Royal Masonic School for Girls
Leal Darya Serefoglu - Hisar School
A hugely successful year for all four competitions, Regent's congratulates all our brilliant entrants, runners up and winners for their talented submissions, and the judges look forward to receiving next year's entries!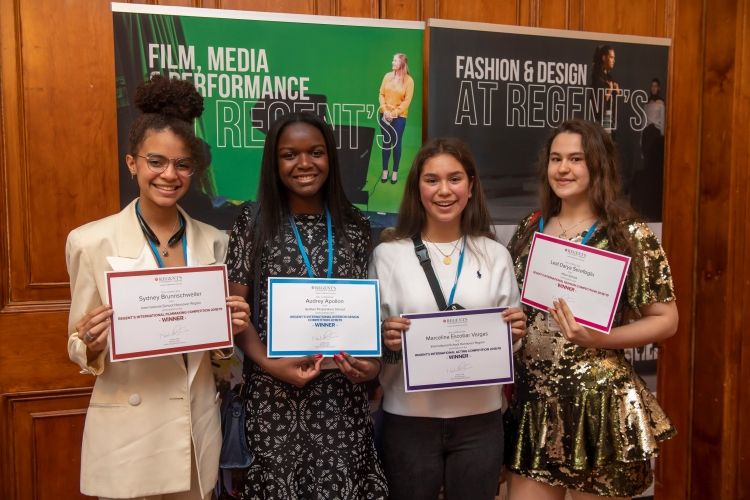 Regent's 2019 Schools Competition Winners