The one-day conference, organised by Regent's Research Centre, brings together international professionals in the field of addiction to share their knowledge and research.
Regent's own Dr Maria Luca, a Senior Research Fellow, and Professor John Nuttall, Assistant Dean and Head of School, RSPP, introduced the conference and opening reflections, describing the incidence of addiction as 'the malady of our time'.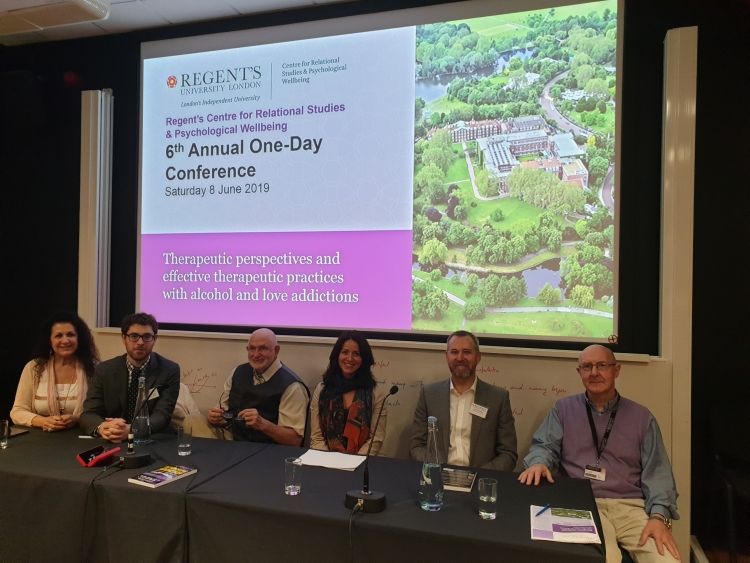 Speakers at the conference
Speakers included Dr Brian Earp, Associate Director at Yale University; Dr Ryan Kemp, consultant clinical psychologist and psychotherapist at the Central and North West London NHS Trust; Dr Stanton Peele; Dr Lymarie Rodríguez-Morales from the University of Wales; and Joanna Holroyd and Professor Desa Markovic from Regent's University London.
Officially opening the conference, Dr Earp proposed the 'moral weakness' model of substance misuse. Discussing his series of studies, Dr Earp suggested drug users' identities are often perceived by others as completely different to their identity prior to addiction. This perception is due to the perceived negative changes in the moral character of drug users, who are seen to have deviated from their 'true' good self.
Building upon Dr Earp's view, Dr Kemp presented what he called a 'meta-synthesis' of 52 qualitative research studies, describing addiction and the key milestone issues involved in recovery. Dr Peel raised some of the underlying social issues of addiction in his presentation, such as parental styles and socio-economic status. 
For Dr Rodríguez-Morales, recovery is linked to transformation and growth into a more genuine and balanced selfhood. According to research presented by Joanna Holroyd, the therapists' engagement with the psychosocial world of clients is shown to be an essential mutative factor.
The afternoon session was dominated by an engaging presentation by Professor Desa Markovic, who challenged the audience to reflect on the historical context and diagnostic categories used to describe sexual behaviour. According to Professor Markovic, there is much conjecture and controversy about the existence and what constitutes a healthy sexual appetite versus concepts such as 'sex addiction' and 'sexual compulsivity'. Needless to say, most of the audience were left feeling less guilty after a thorough airing of these issues. 
Panel debates ensured that delegates could raise important points and challenge speakers. 
The conference will return in 2020 for its seventh edition, focussing on Borderline Personality Disorder.