MA International Business alumna and former Student Union President, Anastasia Mamaeva explains why Regent's will always be home.
July, 2018. As I walk around Regent's, a little less than two years since I arrived to this hidden gem of a University, on every corner of campus I'm greeted by name, by familiar faces of fellow students, professors, Mario the friendly postman, the kitchen staff in the Refectory, the gardeners, the security guards, members of Directorate, University Trustees, and that one staff member I met at one meeting a year ago. And that is exactly why Regent's is my home away from home.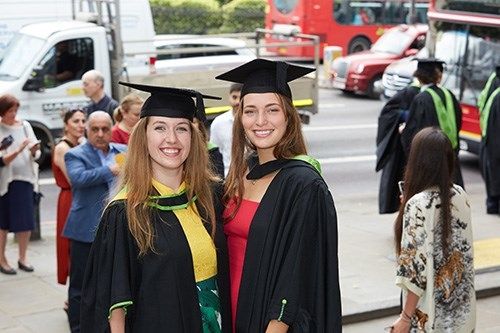 Anastasia Mamaeva, and former SU Communications Officer, Maren Rose
Stepping onto the beautiful park campus of Regent's University London brings upon each visitor a sense of entering into a different world. You are instantly surrounded by the fluster of different languages, cultures and people, something unique to a University in the United Kingdom.
As soon as you're part of the chaotic mixture that is Regent's, you're part of it forever. I arrived at Regent's in 2016, to start my Master's degree in International Business and over the next two years had experiences that many only dream of. I was very fortunate to be able to experience Regent's as a curious student, a determined staff member, and now, as a proud alumna.
My journey started as a student, where from the first moments of induction, I knew that Regent's wasn't like any other university. The mixture of ages, nationalities, cultures, languages and experiences was overwhelming and exciting all at the same time.
Teachers were not just academics standing in front of us forcing us to read textbooks, but were life coaches with expertise in their own fields with years of industry experience. Due to the small course numbers, the teachers knew each individual student's name, background and exactly what they needed to be able to excel in their studies.
They made it clear that their office doors were always open for us, and they truly meant it. Right from the start of my academic journey at Regent's, I knew that I wanted to join the Student Union and within my first few weeks got elected to represent all of the postgraduate students on the Student Union executive team. This provided me the opportunity not only to be able to improve the student experience for postgraduate students, but also to meet students and staff members from all of the other departments on campus.
The Student Union offered a getaway from academic life, a chance to broaden my extra-curricular experiences, something that I think is integral to any student's life. As I continued to work in the Student Union, getting appointed as Vice President three months after joining Regent's, I had the amazing opportunity to meet and work with staff members, who I wouldn't have met if I was only at Regent's to study.
When I got elected as the first sabbatical Student Union President, it was overwhelming to attend meetings with trustees, directorate, senior managers, etc. and have them actually listen to what I, as the voice of all of the students, had to say. Having worked in another Student Union at the University of Leicester, where I did my bachelor's degree, I knew that this relationship between the Student Union and the University was unique and only in the early stages of development.
Through my year working at Regent's, staff members made me feel welcome at any meeting that I had the honour to attend and encouraged and helped me with my projects, as if they were their own. Some staff members helped me find myself in the position of President, some pushed me to my limits, forcing me to grow, while some were just friendly faces, letting me hide in their offices when I felt like that was my only option.
Regent's provided me, as both a student and a staff member, the freedom to develop into who I wanted to be, while also being my security blanket at times when things weren't going so well. The beautiful, indescribable campus itself offered the protection and comfort that only home can.
But Regent's support doesn't end when you finish being a student. Many don't know that there are a vast amount of benefits available for alumni of Regent's.
For example, your membership of the careers department never expires, meaning you can come back in 10-20 years and still ask for advice related to your career. There is also a vast network of Regent's Clubs all over the world, where you can meet up with fellow alumni and reminisce about 'the good old days' at university.
Now as an alumna of this unique University, I know that whenever I find myself in London, Regent's will always offer me the comfort of home.
Originally published in the Winter edition of Inner Circle.