The conference showcases current research on topics relating to understanding and improving the lives of people with Down syndrome. Attended by researchers, clinicians and parents, the forum provides a platform for people interested in the condition to share knowledge and seek support and advice.
Dr Joyce presented her recently published paper Obstructive Sleep Apnoea Contributes to Executive Function Impairment in Young Children with Down Syndrome at the conference – a project completed in collaboration with researchers from Children's Hospitals of Southampton, Evelina London and Sheffield, and led by Dr Cathy Hill from Southampton.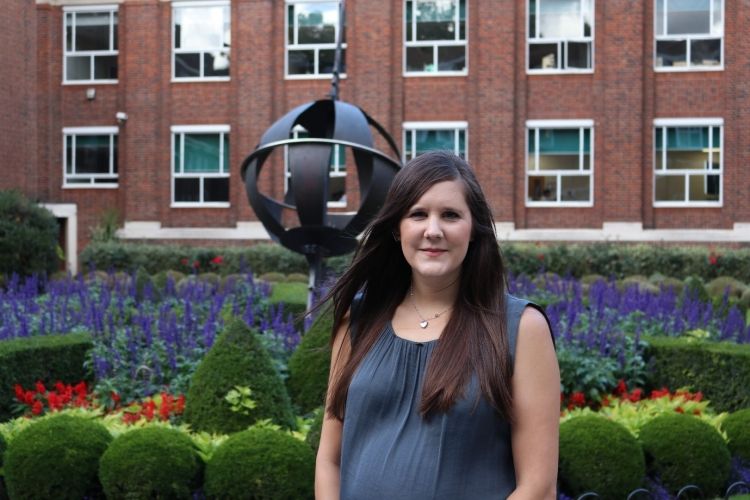 Dr Anna Joyce, psychology lecturer at Regent's University London
Her research is the first study to investigate the effects of sleep apnoea in young children with Down syndrome. Obstructive sleep apnoea is a disorder that causes difficulty breathing during sleep and affects around 80% of individuals with Down syndrome. Typically developing children with sleep apnoea tend to also have problems with executive functions such as the ability to control and regulate behaviour. 
Dr Joyce's study discovered that children with Down syndrome who experienced sleep apnoea also displayed signs of poorer working memory, mental shifting and emotional control relative to children without sleep apnoea. Her research proposes that children with Down syndrome should be screened and treated for sleep problems at a young age, which could lead to an improvement in cognitive abilities. Her talk sparked an intense discussion regarding the guidelines and recommendations for screening sleep problems, and the difficulties many families experience when seeking the support they need. 
Joyce commented, 'The forum has grown over the years and really does a good job of bridging the gap between disciplines like psychology, social policy, intervention and support. It's also always good to catch up with other researchers and see so much valuable research being conducted that seeks to improve the lives of people with Down syndrome and their families.'
Professor Neil Martin, Head of Programmes in Psychology, added, 'I am delighted that Anna, as one of our newest psychology lecturers at Regent's, is continuing to develop and promote her research on sleep and atypical development, and presenting her original research findings at this important event. She has a great reputation in this field and has great plans for psychology here at Regent's in the future.'