Two members of Regent's University London's staff recently took part in Year 10 Employer Engagement Week at Regent High School, a co-educational comprehensive secondary school in Somers Town, Camden.
Silvia Angeloro, Application and Recruitment Advisor, and Toshihiko Kitagawa, a Senior RILC Lecturer were on hand to provide presentations on careers, with a spotlight on the skills needed in business, studying psychology, taking study abroad placements and the value of learning languages, including taster sessions given in Japanese.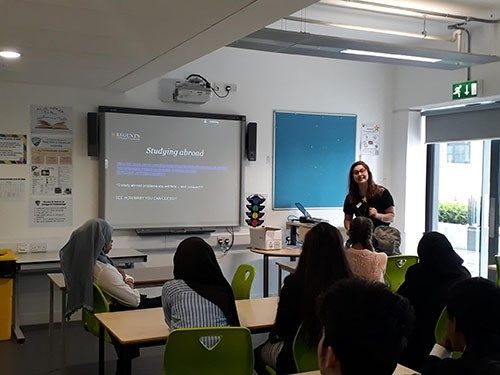 Silvia Angeloro speaks to students at Regent High School
"We were very pleased to be participating in this very important event for Regent High students, and the school as a whole," commented Angeloro.
"It helped me as much as it helped them, and I am always enthusiastic about doing these activities and pushing young people to become outstanding adults.
"Their students are very lucky to have staff supporting them with such dedication through school, inspiring them to become well mannered, smart and respectful adults."
Caroline Waterfall, Outreach Manager added: "It is the first time that we have collaborated with the school on this event addressing younger classes (prior to Year 12).
"These interactive sessions were well received by the students, who had signed up especially to hear about studying these subjects in higher education, and we were very glad to be a part of it."