Regent's University London hosted a creative thinking event, Bricks not Clicks, on Tuesday 14 May in collaboration with the Chartered Management Institute and Institute of Consulting. 
Led by Dr Eric CK Chan, certified Lego Serious Play facilitator, and with the help of alumna, Meryem el Hayani, and two Business and Management Masters students, Martina Merelli (MA Management) and Miguel Raskosky (MA International Business), the event was well attended by delegates from a wide range of backgrounds, organisations and businesses and included some Regent's staff.
Dr Eric CK Chan said: 'Nothing beats that opportunity to truly connect...using Lego Serious Play methodology that can be used for various projects or themes. The possibilities are endless!
'We can inspire the builders of tomorrow through nurturing the child in us by stimulating our imagination and creativity.'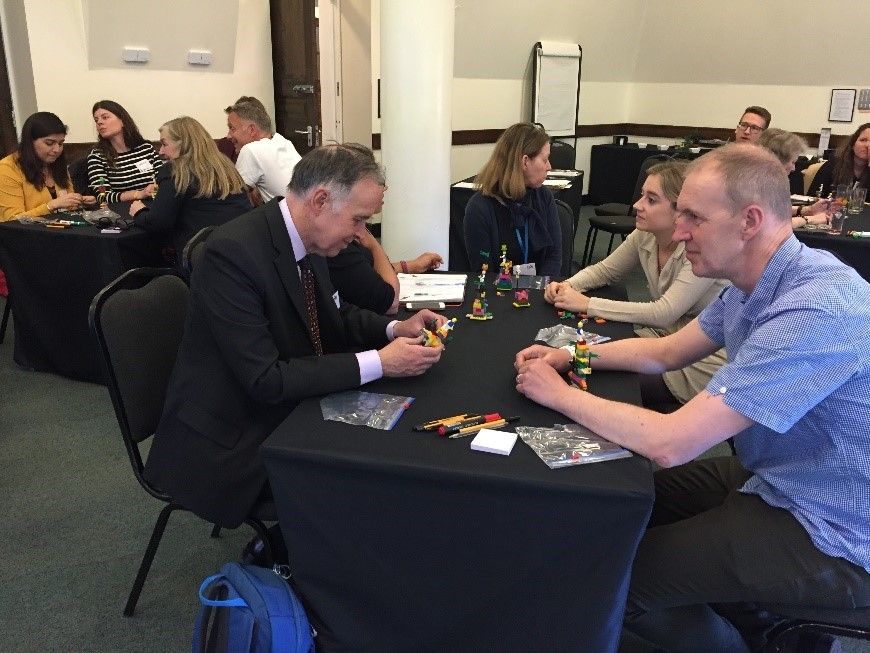 Delegates constructing Lego structures
Dr Chan gave a brief history of how the company formed its name and developed its mission statement, explaining how they always seek to put customers first and to develop high quality products.
The four stage Lego Serious Play methodology follows a process of challenge, build, share and reflect. Delegates took part in a range of activities which included building a tower, and building a model with only the eight specified bricks.
Jenifer Millstone, Research Support Officer at Regent's, commented 'The Lego serious play workshop was enlightening. It was only by participating that I could see its value.'
Delegates also spent 20 minutes constructing a Lego structure they felt represented aspects of their identity, which they then discussed amongst themselves. Participants also took part in a caption competition, captioning a Lego construction.
'The session was excellent and I revel in being surrounded by such positive and creative people, so thank you,' said Joanna Fox, Founder and owner of Medi-HR. 
Thank you to Dr Peter Sharp for his synopsis of the event.