Overview
Direct subsidised and unsubsidised loans for US citizens, as well as Direct PLUS loans for eligible US citizens and eligible non-citizens administered by the US Department of Education (USED) for all eligible degree programmes offered at Regent's University London. 
| | |
| --- | --- |
| Type of funding  | Loan  |
| Loan amount  | Up to the cost of attendance set up by the University  |
| Level of study  | Undergraduate, Postgraduate  |
| Nationality  | US citizens and eligible non-citizens |
| How to apply  | Please follow the Application process flowchart and read the How to apply section |
Eligibility
At Regent's University London, all US Student loans are processed by our Finance Department.
Nationality
US citizens and eligible non-citizens might be eligible for US Direct Student Loans, and/or Private Educational loans. Please note that Regent's University London is not eligible to receive US Federal Grants, including Pell Grant, as we are a foreign school located overseas. Non-US citizens are not eligible for US Financial Aid.
Funding
You may borrow funds based on Regent's Cost of Attendance and not more than the limit set by the University. The Cost of Attendance spreadsheet is available under the Apply section of this web page to help determine the amount of funding required.
There is an entitlement (subject to meeting certain eligibility criteria as set out by US Federal Department of Education) to Direct Subsidised (undergraduates only) and Direct Unsubsidised loans which have fixed limits depending on whether the student is dependent, independent or postgraduate. These may be topped up to the full cost of attendance with a Direct PLUS loan which is not an entitlement, but is subject to credit checking and may be declined by Department of Education. Private loans can be used instead of or in combination with Direct PLUS loan, and is also subject to credit checking - see the Private Loan tab for more information.
 
 

 Loan limits for

All students

Dependent students

Independent students

 

Subsidised Loan

Unsubsidised Loan

Unsubsidised Loan

Undergraduate year 1

$3,500

$2,000

$6,000

Undergraduate year 2

$4,500

$2,000

$6,000

Undergraduate year 3

$5,500

$2,000

$7,000

 Postgraduates

 

 

$20,500

 PLUS Loan

  Balance up to Cost of Attendance

 Private Educational loan

Balance up to Cost of Attendance

For further details of US Student Loans eligibility requirements and loan amounts please visit the Federal Student Aid website.
The US Department of Education charge an origination fee on all loans and this is deducted from each disbursement. The value of the fees and the disbursements are shown in the Cost of Attendance spreadsheet (accessible on the Apply section).
For more detailed information, see the US Department of Education (USED) Student Aid website.
Courses
All Master's and Bachelor's degree programmes validated and offered by Regent's University London are eligible for funding (except the part-time MA in Psychotherapy & Counselling or programmes with a distance learning element). This includes programmes with integrated foundation levels. Certificate,  Diploma (non-degree) programmes, and Research Degree programmes (Doctoral) are ineligible for US Financial Aid.  
Non-degree seeking students studying on a degree programme (Study Abroad students from other institutions) are also ineligible to receive this funding through Regent's University London. These students need to enquire about availability of this funding at their home institution.
Study Period Abroad
Some programmes at Regent's University London offer an optional or mandatory  Study Period Abroad,  for one or two semesters.  Students receiving Federal Student Aid are required to attend a school deemed "eligible" by the US Department of Education, or a "deferment only" school in which Regent's has a consortium agreement.  No SPA can be undertaken in the United States.  Students who have American citizenship or are Eligible non-citizens who do not currently have US financial aid are also subject to these terms and conditions if they wish to have Federal funding during any part of their programme.  
A student who wishes to attend an "ineligible" school, which includes any school in the USA, will forfeit all funding from that semester going forward and all loans will become due with immediate effect.  For any questions regarding these terms and conditions, please email the US Loans Advisor at [email protected] .  For questions regarding what an "eligible" or "deferment only" school is, please  email the IPO office, [email protected] or [email protected] before applying for a programme with an SPA module.
Satisfactory Academic Progress (SAP)
Regent's University London is required by USED Regulations to ensure that all students receiving Federal Student aid (Subsidised, Unsubsidised and PLUS) are making satisfactory academic progress (SAP) both Qualitative and Quantitative components. If you fail to meet SAP you will become ineligible for US Direct Loans. Read Regent's SAP Policy. Regent's University London Academic Regulations can be found here.
Return of Unearned US Student Aid (R2T4)
We are required by USED to complete special calculation for students withdrawing from their programme prior to the end of their teaching period (semester or term). As a result of this calculation, we might be required to return all of the Direct Loans funds or a certain amount back to the US Government. Should this leave you with an outstanding balance, this will be required to be paid back to the University in full.
Return of Title IV Funds Policy
National Student Loan Data System
The University will provide information per compliance regulations regarding all US loans borrowers to NSLDS. This data is accessible to lenders, schools and guaranty agencies whom are authorised users of the data system. Further information regarding NSLDS reporting can be found here.
Exit Counselling
For any US borrower (with the exception of Parent PLUS loans) who takes a break in studies, withdraws, ceases at least half-time study or graduates from Regent's University will be required to complete Exit Counselling. All exit counselling materials will be sent to the student for completion at StudentLoans.gov website.
Refund policy
Information regarding Regent's University London refund policy can be found here.
 
Application process flowchart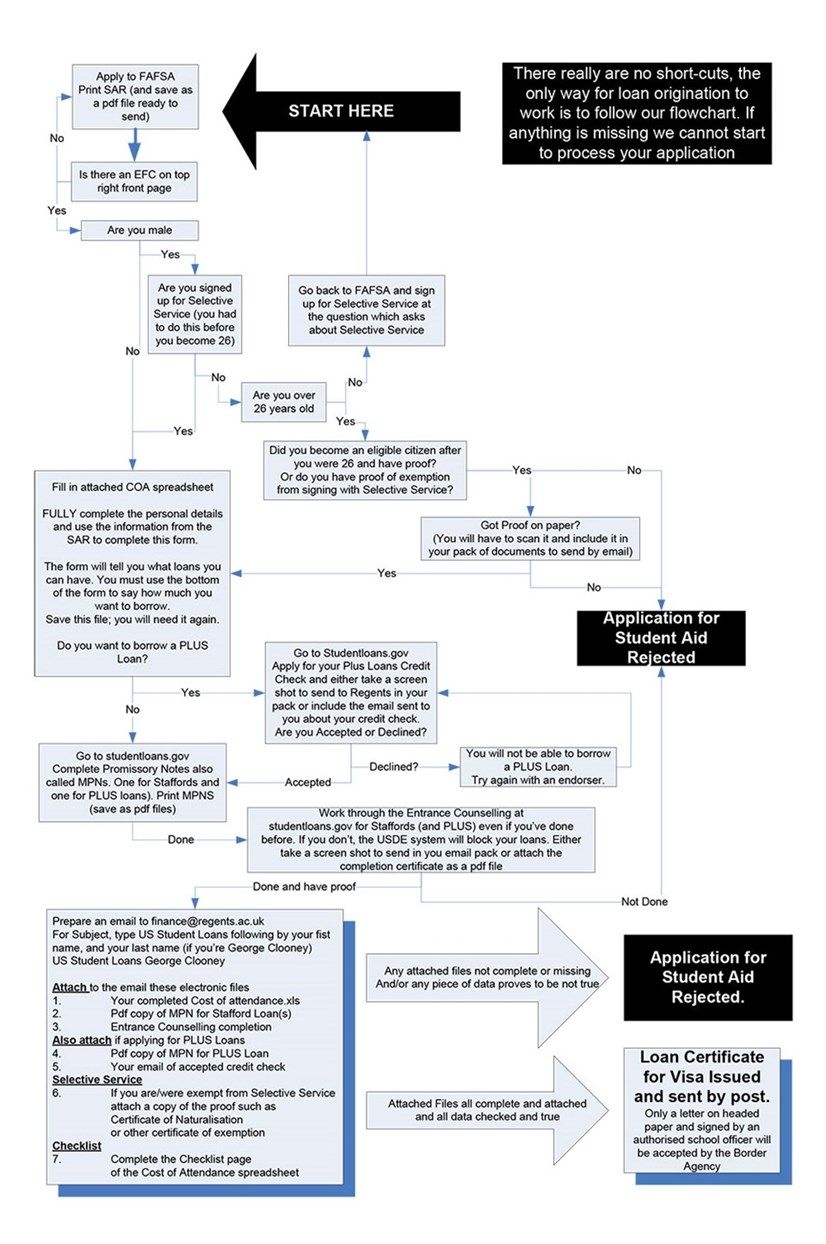 How to apply
For an outline of the application process use the US Student Loans Application flowchart below, and for further guidance on financial aid please refer to this document. Once you have completed the 2019-20 FAFSA, you must contact the finance office, [email protected] to let them know that you have done so.  
For 2019-20, the application deadline for Spring 2020 is 14th November 2019.  The application deadline for January 2020 will be published after the Fall semester begins.
Funding amounts
You can borrow up to the amount outlined in the Cost of Attendance which is set by Regent's University London. The maximum loan you can receive cannot exceed the yearly cost of attendance less any financial aid you may be receiving. Financial aid may include; sponsorship, scholarships and other Financial aid from the UK and or the USA.
Please download the Cost of Attendance spreadsheet (xls) to determine your funding amount.
Direct Subsidised and Direct Unsubsidised Loan amounts for Federal Stafford Loans and aggregate limit are published in the Eligibility tab above.
Regent's University London has set the following costs as part of the cost of attendance (amounts shown in GBP sterling):
Weekly expenses
Rent/room - £330.00 per week
Board (food and utilities) - £110.00 per week
Books and copying - £20.00 per week
Local transportation - £35.00 per week
Personal - £90.00 per week
Suggested single costs
Cost of two return flights - £1,257.00
PC/printer - £530.00
Visa application/flights - £357
Visa £335.00 + NHS charge £200 = £535.00
Loan Information
2019-20 Academic Year
Spring 2020 Semester
Deadline for US Loans applications for Spring 2020, is 14th November 2019. All applications submitted after this date will be processed in due course, but we cannot guarantee that they will be processed in time for the first disbursement date, please see below.
Our Federal school code for Free Application for Federal Student Aid (FAFSA) is 042188, but please note that completing the FAFSA is only the first step of the process. Please refer to the US Student Loans Application flowchart in the Apply section for all the steps required to complete packaging your aid.
The Cost of Attendance (COA) for the spring 2020 semester will be available shortly after 11 November 2019.
Direct loans originated and Private Educational loans certified by Regent's will be disbursed in equal instalments during the first two weeks of each semester.
All of your US Loans funding will be disbursed in USD as per your award letter, but the actual GBP sterling amount you receive will vary as it is dependent upon the exchange rate from USD to GBP at the time of disbursement.
Disbursement dates for 2019-20 are:
Autumn 2019 start:
3 October 2019
3 February 2020
20 May 2020
Spring 2020 start:
27 January 2020
16 March 2020
Spring 2020 start: Foundation BAM and BAGM programmes with a summer term.
27 January 2020
20 May 2020
Please note that these dates are estimates and actual disbursement dates may change.
Disbursement of aid is conditional upon the following:
Maintaining satisfactory academic progress
Enrolled at least half time (at least 50% of a full study load)
Studying outside of the USA
Compliance with all US Federal regulations (Selective Service Registration for male students, repayment default, fraud, drugs etc.)
You will receive notification when funds are due for disbursement. Those wanting to cancel or reduce disbursements must make requests to [email protected]
Consumer Information
Degree accreditation
Regent's University London is a registered provider with the Office for Students. Our provider registration number is UKPRN 10003331. The register can be found here.
Academic programmes
All academic programmes offered by Regent's University London are published on our website: Study at Regent's University London.
Textbook information
Information about any required and recommended textbooks for your course will be provided to you by your department. If you require specific information about textbooks, please contact the relevant department for advice.
General library information can be found at Library services.
The University has signed up to the Copyright Licensing Agency (CLA) Comprehensive Higher Education Photocopying, Scanning and Digital Material Re-use Licence (CLA Licence) for printed resources and the terms of our Educational Recording Agency licence regulate the use of video material. Guidance is available to students on both of these from Library Services. Please refer to the Student Handbook for further information regarding Copyright.
Completion, retention and transfer out rates
Information on the University's completion and transfer-out rates is available from the Higher Education Statistics Agency (HESA) for the period 2015/16 onwards. The provisional 1-year non-continuation rates for our 2015/16 new starters on UK designated undergraduate programmes is 19.7%.
Student rights and responsibilities
The University's academic regulations contain all the academic regulations and procedures which constitute the University's framework for quality and standards.
Expectations of all students are laid out in the Regent's University London Student Charter.
Information regarding Code of Conduct, Disciplinary Policy, Attendance Policy, Accommodation, Careers & Employability, Student Complaints,  Fire Safety, Campus Security,Health and Wellbeing and Student Fitness can be found in the student handbook.
Code of Conduct for US Loans
In order to prohibit a conflict of interest of a member of staff with respect to private education loans, all staff at Regent's University with responsibility for US loans are prohibited from the following:
Revenue-sharing arrangements with any lender
Receiving gifts from a lender, a guarantor, or a loan servicer
Contracting arrangements providing financial benefit from any lender or affiliate of a lender
Directing borrowers to particular lenders, or refusing or delaying loan certifications
Offers of funds for private loans
Call centre or financial aid office staffing assistance
Advisory board compensation.
All applicants for private loans must use Sallie Mae, as they are the only private lender currently working with schools in the UK. Sallie Mae is not a preferred lender and this doesn't represent a preferred lender arrangement.
All agents with responsibility for US loans are reminded at least annually of the code.
Disability information
Regent's University London supports disabled students, using the definition of disability from the Equality Act, 2010. If a disability may affect your ability to participate in your chosen course or in campus life, please tell us as soon as possible, so that we can discuss your support needs with you. If you have complex needs, we advise you to contact the Disability Officer before applying. The Disability Officer will need to ask you specific questions in order to assess how best we can support you.
For further information see Disability Information.
Health and wellbeing
The University aims to support you to enjoy a healthy and balanced life and can refer you to appropriate health-care services at times of ill health.
For further information on health matters and insurance please refer to the Student Handbook.
It is important to note that Federal regulations prohibit Title IV assistance to students convicted (State or Federal) of drug-related offences; therefore a student convicted of drug-related offences will lose his/her Title IV loan eligibility.
Crime rates
Reported crime statistics for the Regent's Park and Primrose Hill neighbourhood is available from the Metropolitan Police.
Metropolitan Police crime information  
Contact the Finance Department: [email protected] +44 (0)20 7487 7447
Drugs and alcohol policy
The US Department of Education provides information on penalties associated with drug-related offenses which include loss of Title IV eligibility, associated with the Higher Education Act.

If you should lose eligibility as a result of these penalties, we will provide written notice of your loss of eligibility and advise how you can regain eligibility. Information regarding these penalties can be found here.

The University in no way condones the misuse of drugs or alcohol and will balance disciplinary action with appropriate support for student who misuse them. The University policy regarding disciplinary action for Drug and related offenses can be found in the institutional student disciplinary policy.

Campus Student Support Services can provide information on registering with the National Health Service or making an appointment with a counsellor on campus. Further information is provided in our Student Handbook. The NHS can assist with any medical or psychological condition related to drug and/or alcohol abuse for students and employees.

Information regarding prevention of drug and alcohol abuse can be found here.

Drug and alcohol abuse can cause short and long-term health problems. For more information please see the following websites:
The NHS facilities closest to Regent's University London can be found here.

You can get a fine or prison sentence if you take, carry, make or sell drugs or psychoactive substances. The penalties depend on the drug and the amount you have, and whether you're also dealing or producing the drug.
Intercollegiate Athletics Programmes
Regent's University London does not participate in an Intercollegiate athletics programme as defined by the US Department of Education.

Regent's University London does offer the Filippo Corsini Polo Scholarship for eligible undergraduate students. 
1098-T forms for US Tax Credit
As a foreign school, Regent's University London does not produce 1098-T tax forms, nor has an EIN number with the United States Internal Revenue Service.
Smart Option Loan (Sallie Mae)
The only private loan currently available to students at foreign schools is the Smart Option Loan from Sallie Mae. Sallie Mae also has a Parent Loan and a Graduate Loan.
Please review the Direct Lending programme before you progress with a private loan as this may be a more favourable option.
To apply
Eligible students may borrow funds based on Regent's Cost of Attendance and not more than the limit set by the University from all fund sources including Direct Loans, and/or Private loans. Students can access the Cost of Attendance spreadsheet under the Apply tab to help determine the amount of funding required. 
Click on the following link to Sallie Mae and apply online 
Send a copy of your e-signed Promissory Note to 

[email protected]

 together with your cost of attendance spreadsheet. Please note that the Truth in Lending Act requires that completed and signed self certification Promissory notes are an essential part of your application, we will not process loans without this document 
Please enter USL Smart Loan in the subject field of the email
We require your Promissory Note to be able to certify your loan.
For further information on Private loans: